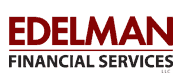 Being recognized as one of our industry's best places to work is truly an honor
Fairfax, VA (PRWEB) December 19, 2014
Pensions and Investments magazine has named Edelman Financial Services as one of the Best Places to Work in the investment management field. The firm was ranked 4th among companies with 100-499 employees.
"Nothing is more important than giving our clients outstanding service, and we have our employees to thank for that," said Ric Edelman, Chairman and CEO of Edelman Financial Services. "Being recognized as one of our industry's best places to work is truly an honor."
Edelman Financial offers employees generous benefits, including a four-week paid sabbatical every six years, flexible work hours, birthdays off, paid time off for volunteer work and a Rolex watch following their 10th anniversary with the firm.
Edelman said the firm is growing rapidly and seeking to hire dozens of employees from coast to coast, including financial advisors, client service associates and other professional positions.
Edelman Financial has 38 offices serving 26,000 individuals and managing $14 billion in assets.(1) Ric Edelman hosts weekly radio and television shows and is a #1 New York Times best-selling author. He has been ranked the nation's #1 Independent Financial Advisor three times by Barron's.(2)
About Edelman Financial Services
Edelman Financial Services provides financial planning and investment management services for individuals and families, as well as 401(k) plans and institutional investment management for businesses. The firm has won more than 100 financial, business, community and philanthropic awards.(3) For investment advice and other financial planning services, or to speak with an advisor, call 888-PLAN-RIC (888-752-6742) or visit EdelmanFinancial.com.
###
Ric Edelman is Chairman and CEO of Edelman Financial Services LLC, a Registered Investment Adviser, and CEO, President and a Director of Pinnacle Summer Investments, Inc. He is an Investment Adviser Representative who offers advisory services through EFS and a Registered Principal of (and offering securities through) Sanders Morris Harris Inc., an affiliated broker/dealer, member FINRA/SIPC.
1.As of September 30, 2014
2.According to Barron's, "The formula [used] to rank advisors has three major components: assets managed, revenue produced and quality of the advisor's practice. Investment returns are not a component of the rankings because an advisor's returns are dictated largely by each client's risk tolerance. The quality-of-practice component includes an evaluation of each advisor's regulatory record." The rankings are based on the universe of applications submitted to Barron's. The selection process begins with a nomination and application provided to Barron's. Principals of Edelman Financial Services LLC self-nominated the firm and submitted quantitative and qualitative information to Barron's as requested. Barron's reviewed and considered this information which resulted in the rankings on Aug. 27, 2012/Aug. 28, 2010/Aug. 31, 2009.
3.Throughout the firm's 25 year history, EFS and Ric Edelman have been presented with more than 100 business, advisory, communication and community service awards. A complete list of awards won can be requested by contacting the firm at (888)-PLAN-RIC.