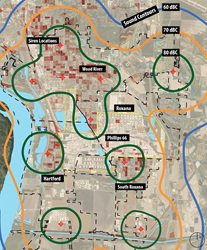 (PRWEB) December 19, 2014
Acoustic Technology, Inc. (ATI Systems), the world leader in Mass Notification Systems (MNS) and intelligible voice systems, today announced that the municipalities of Hartford, Roxana, South Roxana and Wood River, Illinois awarded ATI a contract for a new Alert System.
The system, designed by ATI, consists of ten (10) 3200 Watt electronic High Powered Speaker Stations (HPSS32), which will be installed throughout the four municipalities. The predicated acoustic coverage was determined by utilizing ATI's acoustic model, which shows 80, 70 and 60 dBC voice and tone contour areas, as shown in the map. The siren system is controlled by using five (5) Control Stations. One Control Station is located in each of the four municipalities, while the fifth acts as a master Control Station that runs ATI's MassAlert software from a centralized location. With the utilization of ATI's software, the municipalities can add SMS messaging and other alert systems that could further assist the communities in other types of crisis situations.
This project is being fully funded by a $250,000 donation from Philips 66 Wood River Refinery. As part of an agreement signed by the municipalities and Phillips 66, if any future repairs or upgrades are requested, the municipalities will split the costs four ways. This agreement was approved at the most recent board meeting. Installation of the equipment will begin immediately, with the goal of having it installed and functional by Spring 2015. Upon completion of the installation, municipality personnel will be trained by ATI staff on operating and maintaining the system.
About ATI Systems
Acoustic Technology, Inc. (ATI Systems) is the world leader in the design, manufacture, and installation of reliable emergency warning and notification systems for the campus, community, industrial, and military markets. ATI Systems has been developing innovative wireless systems that provide audible and visual warnings via a simple and compact hardware design, user-friendly software, and the latest communication methods, including radio frequency, IP Ethernet, and satellite technology.
Universities, communities, ports, refineries, nuclear power plants, military bases, and other homeland security locations use ATI's high-performance products to maintain the safety and efficiency of their operations. Recognized worldwide for its superior dialog clarity, impressive build quality, advanced technology, and flexibility, ATI's Mass Notification Systems easily integrate with other warning systems to provide more complete solutions.
For more information about ATI Systems, visit http://www.atisystem.com.