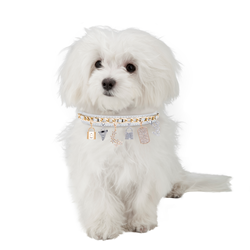 Everyone loves jewelry for the holidays…pets included!
New York, NY (PRWEB) December 23, 2014
Stylish pet brand LazyBonezz wants furry friends to ring in the New Year with bling. The fashion forward brand has launched a collection of charms and necklaces for pets and owners alike, just in time for the holidays.
Whether it's a single statement dangler or a full-on cluster, charms have been popping up on bracelets, necklaces, even bags, watches and phones. An adorable way to add personal style to any look, it's easy to see why charms have had such sartorial staying power over the past few years.
The new line of LazyBonezz charms are runway-inspired and meant to keep you and your pet effortlessly chic. Plated in 18k Gold, they are available in two different ways, either with a clasp to accessorize pet collars, dog leashes and carriers, or with a beautiful chain for pet parents. For even more ways to wear, the necklaces include both a 16" and 32" chain, so you can style your charm short or long.
Fashionista and President of LazyBonezz, Lorraine Gold commented, "Everyone loves jewelry for the holidays…pets included! These charms will add a little sparkle everyone's step."
LazyBonezz.com recently re-launched, unveiling an array of pet Holiday gifts–from the brand's signature pet bunk beds to their newest set of pet toys, pet bowls and travel carriers.
LazyBonezz was founded in 2008 by Adrienne Shamie and her daughter Lorraine Gold. This New York-based design team infuses every LazyBonezz product with the cool, modern vibe of the city—keeping your pet and your home fashionable. Crafted from top-quality materials, the brand offers a vast assortment of designer essentials, including pet beds, accessories, storage solutions, gear, toys and more.