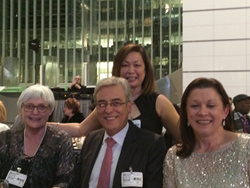 Washington, DC (PRWEB) December 19, 2014
Liz Davidson, International Properties Specialist to Realogics Sotheby's International Realty, recently participated in the FIABCI December Business Meetings which took place in Washington, DC and which were hosted by the FIABCI-USA Chapter. Liz Davidson is a member of FIABCI, the International Real Estate Federation, a business network of real estate professionals worldwide. The Federation provides its members with access and opportunity for real estate professionals interested in gaining knowledge, sharing information and conducting international business with each other.
Approximately 200 FIABCI international real estate leaders participated in this special program where they were able to meet and network with key influential professionals from all fields of the global real estate marketplace. The FIABCI December Business Meetings are one of the annual FIABCI meetings which offer unique opportunities to promote and conduct business. The official FIABCI agenda was robust and included conferences and meetings for all FIABCI World Councils and Committees as well as working sessions, study tours, the General Assembly and an abundance of networking and marketing opportunities for members to showcase their properties and services on a global basis.
Highlights during the meetings included a private reception at the Australian Ambassador Hon. Kim Beazley's home in honor of FIABCI World President Robyn Waters, a special presentation which focused on FIABCI's participation in the International Property Measurement Standards Coalition and the International Ethics Coalition – initiatives aimed at creating international standards that can be implemented around the world. There was also an official signing of a cooperative agreement between the World Bank and FIABCI to support the "Doing Business" project. This project provides objective measures of business regulations for local firms in 189 economies and selected sites. The signing of the cooperative agreement took place during a Gala Dinner at the World Bank. Social programs included a "Welcome Reception" hosted by NAR (National Association of Realtors) at their headquarters overlooking Capitol Hill, a FIABCI Young Members Evening of Fun, a State Department Tour, Monuments by Moonlight Tour and much more.
Delegates in attendance also had an opportunity to hear from some of the world's leading real estate experts and participate in a host of informative and productive global real estate programs and meetings focusing on important topics within the real estate and real estate-related industries.
"Having the opportunity to host the annual December Business Meetings of the most representative real estate Federation in the world in Washington, DC, the USA Nation's Capital, was an outstanding experience and provided an excellent forum for FIABCI members to participate in the discussion of international real estate and the conducting of business on a global basis," explained Robyn Waters, FIABCI World President.
FIABCI, the International Real Estate Federation, is a business network of real estate professionals worldwide. FIABCI provides access and opportunity for real estate professionals interested in gaining knowledge, sharing information and conducting international business with each other. With members in 65 countries, including 100 Professional Associations, 65 Academic Institutions and 3000 individual members from all professions of the real estate sector, FIABCI is the most representative organization of the real estate industry in the world and holds special consultative status with the Economic and Social Council (ECOSOC) of the United Nations. For more information, visit http://www.fiabci.org.
Liz Davidson is a well-respected professional with extensive experience in assisting clients in both residential and commercial and is seen as a leader and pioneer in international real estate.
Liz is highly accomplished in her real estate career with over two dozen affiliations and designations to her credit. She has participated in over two dozen major international conferences including Hong Kong, Beijing, Macau, Vancouver BC, Moscow, New York, Chicago, Denver, San Francisco and Ho Chi Minh City among numerous others.
Her vision, tenacity and commitment to her clientele both locally and globally is unparalleled. She has strong connections and relationships in mainland China and Hong Kong. Liz has earned the trust of her clients across all borders and her representation has included both developers for multi-family and land, single family homes, condominiums and estates and complex commercial properties. She is a master at problem solving and finding strategic solutions that create a win/win for all.
About Realogics Sotheby's International Realty: Artfully uniting extraordinary homes with extraordinary lives, Realogics Sotheby's International Realty is a full service marketing and sales brokerage in the Pacific Northwest and the most productive on a per broker basis by total dollar volume, according to Trendgraphix, Inc. A market leader in marketing Pacific Northwest properties to Asia, the firm was recognized by the Puget Sound Business Journal among the fastest growing private company in Washington State for 2012, 2013 and 2014. Visit http://www.RSIR.com.
For high resolution photos, contact Andrea Savage at 206.448.5752 or Andrea(dot)Savage(at)SothebysRealty(dot)com.