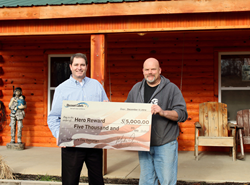 "Thank you Discount Labels, I really don't think you realize how much your contribution means," says Rodney Bruce, founder of Hero Reward. "What you guys did allows us to be way ahead of schedule."
(PRWEB) December 22, 2014
In recognition of Veteran's Day, Discount Labels contributed a portion of November sales to Hero Reward, a local organization that provides services to veterans and their families, free of charge.
Located on a couple hundred acres in the hills of Southern Indiana, the Hero Reward Program offers lodging, world class fishing, hunting, hiking, horseback riding, 4-wheeling, skeet shooting, and much more. The program was founded several years ago to support U.S. Service men and women, police officers, fire fighters and their families.
"Thank you Discount Labels, I really don't think you realize how much your contribution means," says Rodney Bruce, founder of Hero Reward. "We are constantly working and improving our services to the veterans and first responders we host. We are at a stand still on completion because of funds but what you guys did allows us to be way ahead of schedule."
Discount Labels provided $5,000 to help with the expansion of Hero Reward. The program plans to add a recreational room, basketball court, fire pit and shelter house in the near future.
About Discount Labels:
Discount Labels specializes in die cut labels, premier labels, durable labels, UL labels, variable data labels, printer labels, magnets, stamps and promotional products for every industry including automotive, construction, healthcare, manufacturing, restaurant and retail. Discount Labels sells through the largest authorized label distributor network in the U.S. and Canada. Eligible dealers are active in one of the following industries: printing, graphic arts, specialty advertising, business forms, packaging and shipping, signs, banners, trophies, rubber stamps, or office products. Established in 1965, Discount Labels has grown to be America's largest wholesale label supplier. Find more information at http://www.discountlabels.com and visit us on Facebook, Twitter and Google+.