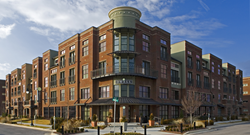 Denver, Colorado (PRWEB) December 19, 2014
Amstar announced today the sale of Dwell at McEwen, a 370-unit apartment property located in Franklin, Tennessee that Amstar and Southern Land Company developed in two phases. The buyer and sale price were not disclosed. Jason Nettles of HFF represented the seller in this transaction.
Amstar, in partnership with Southern Land Company, completed construction on the first phase of the property in 2008 and the second phase in 2014. The property features best-in-class finishes and amenities. The apartment units include brushed nickel fixtures and hardware, designer granite countertops, and stainless steel appliances. Resident amenities consist of two state-of-the- art fitness centers, a resort-style pool, and a fire pit. The property is situated within the 90-acre McEwen master planned community, which features a Whole Foods Market anchored shopping center, and a 175,000 square foot office building. The community is one-half mile west of Interstate 65, which provides easy access to all points in metro Nashville.
"We have mixed emotions about the sale of Dwell at McEwen," said Amstar Managing Director Kim Sperry. "While we are very proud of what we accomplished on this investment, this sale represents Amstar's fourth property sale in the previous two years and doesn't leave us with many holdings in the Nashville market. We continue to believe in Nashville from an investment perspective and we look forward to re-entering the market when we find the next opportunity that fits our investment strategy."
About Amstar
Established in 1987 and headquartered in Denver, Colorado, Amstar is a real estate investment manager that acquires, develops and manages office, multifamily, retail, hotel and industrial properties in select U.S. and international markets. Originally formed to invest and manage the real estate allocation of a large family office client, Amstar began expanding its capital strategy nearly a decade ago and has grown to more than $2.5 billion in assets under management (as of September 30, 2014). Today, Amstar is proud to provide a high degree of focus and attention to its client relationships, counting among them leaders in the private and institutional investment community. Amstar's clients originate from across the globe and include U.S. and European institutions, insurance companies, private banks, funds of funds, and other family offices. For more information, visit http://www.amstar.com.
About Southern Land Company
Southern Land Company builds quality communities that enhance the lives of our residents across the U.S. With a comprehensive set of services that span the entire development lifecycle, we deliver distinctive settings where people want to live, work and shop. By upholding stringent standards for single-family and multifamily developments, we create projects with long-term viability that our investors, residents, employees and partners can rely on. Founded in 1986, we are headquartered in Nashville, Tennessee and have executed more than 20 residential and mixed-use developments in key U.S. markets. For more information and to see our current projects, please visit http://www.southernland.com