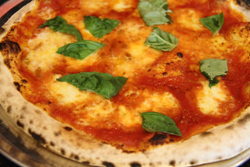 Fired to perfection in 2 minutes!
Somerdale, New Jersey (PRWEB) December 23, 2014
1000 Degrees Pizzeria, a fast casual pizza concept is opening this coming week, in the Coopertown Center, located in Somerdale, New Jersey. The Coopertown plaza, years ago was known as Lion's Head Plaza, has been rejuvenated with a multi-million dollar rebuild and facelift, and now features a complete new tenant line up, including YoGo Factory, Applebees, and a newly renovated Cinemark Movie Theater. With one of the nicest movie theaters in the area sitting adjacent to the new 1000 Degrees location, as well as a YoGo Factory frozen yogurt shop, large LA Fitness gym, and super walmart, 1000 Degrees is a great addition to an already exciting tenant line up. A fast casual pizzeria, 1000 Degrees offers a neapolitan style pizza, fired in an old world style brick oven. 1000 Degrees prides itself on it's unique "one of a kind" rotating deck oven, that allows up to 240 of their most popular size (11") pizzas to be cooked in 1 hour. 1000 Degrees Pizzeria also recently added 14" pizzas to the menu options, for larger groups and families. The 1000 Degrees tagline "you create it, we fire it at 1000°" gives customers the option to "create their own" unique pizza by offering over 50 topping options, including 10 types of cheese, regular or gluten free crust, and a wide array of sauces, meats & fresh vegetables. The franchise pizza concept also has an in-house "favorites" menu, including unique pizzas like "Grandma Marie's Broccoli Rabe" and "The Philly Cheesesteak Pizza" to name a few. The 1000 Degrees brick oven pizza franchise brand has experienced tremendous growth over the past few months including new multi-store franchisee units opening in Michigan, Arizona, Virginia, Pennsylvania & New Jersey. The mission is simple, to provide the best possible Neapolitan Pizza in America, in a unique, fast casual environment, providing customers the option of creating their own perfect pizza, using the best ingredients available. Interested prospective franchisees are encouraged to visit the corporate website, and fill out a franchise interest request form and explore if the 1000 Degrees Neapolitan Pizzeria brand is a good match for their business interests.