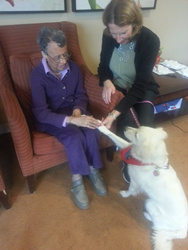 Chicago, IL (PRWEB) December 22, 2014
Medical professionals are widely acknowledging what animal lovers have known all along. Dogs, and in fact pets of all kinds, have earned the distinction of being known as man's best friend. In addition to offering unconditional love, affection, and the joy of wagging tales, the presence of animals often promotes healing, reduces pain, anxiety and depression, and helps with memory. A long-time proponent of pet therapy, Nikki Gamble, life enrichment manager at The Terraces at The Clare has launched a pet therapy program.
The Clare is a luxury retirement community located in the heart of Chicago's Gold Coast. The Terraces offers assisted living, memory support, rehabilitation, respite and skilled nursing. As the life enrichment manager, Nikki coordinates various programs and activities for the residents.
Earlier this year, Nikki connected with Pet Therapy International to provide volunteers to bring their dogs to The Terraces to visit. There are now three regular monthly visitors, so there's a dog on-site almost weekly.
A large group program that Nikki's coordinated involves the residents playing gentle games of fetch with the animals. "This encourages fine and gross motor movement which is a great thing for our residents," Nikki said. The volunteers will then offer to visit anyone's room who hasn't attended the program. "During their visit, the residents will reminisce about their own pets that they've had. They'll cuddle with the dogs. There's a lot of excitement. It's great for them to be able to interact with an animal," she said.
While pet therapy is not a practice that is unheard of in retirement communities, "it takes the open-mindedness to let people bring animals in," Nikki said. "Not all communities are willing do to so but the benefits are clear."
The Clare at Rush and Pearson is a Life Care retirement community in the heart of Chicago's Gold Coast with incomparable lifestyle, amenities and the financial stability only a debt-free community can offer. The Terraces at The Clare, which partners with Northwestern Memorial Hospital, provides assisted living, memory support, rehabilitation and skilled nursing. The Terraces has earned the 5-star quality rating by the Centers for Medicare and Medicaid Services. The Clare is owned by Chicago Senior Care and managed by Life Care Services. For more information visit: http://www.TheClare.com or call 312-784-8100.