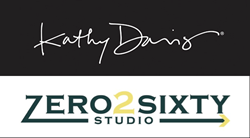 I am thrilled to mark the launch of my fourth venture with a Kathy Davis collaboration
Horsham, PA (PRWEB) December 23, 2014
Kathy Davis Studios is adding yet another product category to the brand's repertoire through a partnership with wall décor company Zero2Sixty Studio – the newest venture from veteran décor entrepreneur Ann Marie Mendlow. The partnership's initial product line, Kathy Davis magnetic memo boards, coordinating magnets and wall decals, will debut at the showroom of national sales representative Ivystone (showroom 1807, Building 2 of Americasmart) at the Atlanta International Gift & Home Furnishings Market®, January 6-13.
The Zero2Sixty launch collection, which will feature Kathy Davis' iconic watercolor designs, will be offered across all brand tiers – Kathy Davis (signature/high-end specialty), Scatter Joy (mid tier) and Portfolio (mass). All Kathy Davis Signature products will be made in the USA.
"This is a fresh way for us to inspire others to 'create a life they love' with contemporary wall décor," says Sarah Van Aken, VP of Marketing at Kathy Davis Studios. "Supporting others in connecting with family and promoting positive changes in their lives are key initiatives that we strive for with our products. We're looking forward to exploring the many design possibilities that will come from our partnership with Ann Marie and Zero2Sixty."
Bluebell, PA-based Zero2Sixty Studio, specializes in alternative and functional wall décor formats. Mendlow, the company's CEO, is a seasoned marketing and product development dynamo whose career has been hallmarked by a series of successful ventures. She previously served as CEO and founder of Lot 26 Studio, President and founder of New View Gifts & Accessories, and Divisional President of Continental Box Company. She has signatured and marketed some of the most significant products in wall décor, photo storage & display, and stationery.
"I am thrilled to mark the launch of my fourth venture with a Kathy Davis collaboration," Mendlow says. "One of the most critical elements of the décor business is finding a design partner who understands and shares your vision, and I believe Kathy Davis Studios and Zero2Sixty are united in our goal of bringing dynamic and impactful products to market."
With licensed products in over 60,000 doors, Kathy Davis touches some 80 million consumers and generates over $100 million at retail each year. The company is building upon its growing stable of licensees across home, fashion, gift, stationery, social expression and more.
About Kathy Davis Studios
Kathy Davis Studios (KDS), headquartered in Horsham, PA, is a leading design company that began over 25 years ago, serving the greeting card, stationery and gift industries. It has since expanded to become a lifestyle brand with key categories in home and fashion. Led by Kathy Davis, America's top social expression designer, KDS is known for expressive, hand-painted art and inspiring, hand-lettered messages. The firm designs meaningful products that sell worldwide, products that foster connection and inspire others to create a life they love. Please visit us at http://www.Kathydavis.com
About Zero2Sixty Studio
Zero2Sixty Studio is a wall décor design and distribution company bringing retailers and consumers innovative products that enhance the look and functionality of the home. The Company was founded by Ann Marie Mendlow, who has a proven track record in creating and scaling brands in the home décor space.