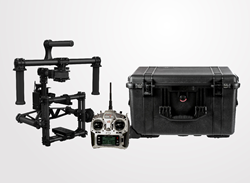 Woodinville, Washington (PRWEB) December 22, 2014
Freefly Systems, the company behind the MōVI line of camera stabilizers and CineStar multi-rotors, is including a Holiday Bundle of accessories with their DSLR-ready stabilizer, the MōVI M5. The bundle, which is available until the end of the year, includes the industry-standard M5 camera stabilizer, with a custom-designed Pelican case and a remote-control unit from Spektrum.
With the addition of the 1620 Pelican case and the Spektrum controller, Freefly provides more convenience and ease of use with the MōVI stabilizer for photographers and filmmakers who have small production teams and need versatile equipment that's ready to go. The bundle of free accessories with the MōVI M5 should appeal to videographers who may not have jumped on the MōVI bandwagon yet.
The Holiday Bundle is available with limited quantities remaining at select MōVI dealers and at FreeflySystems.com.
Chris Moran of WV MotionWorks, a creative production company based in West Virginia, recently adopted the MōVI into their workflow because, "It's small, lightweight, easy to balance and customizable. In our wedding workflow, it can take the place of a slider, jib boom, and Steadicam, making us much quicker and more able to adapt as the day goes on. We spend less time setting up and breaking down gear and more time actively engaged in the story."
The Freefly MōVI M5 is a 3-axis digital camera stabilization system that features Freefly's proprietary, state-of-the-art hardware, software and cutting-edge stabilization capabilities designed to hold a camera package of up to 5 pounds (2.27 kg). The MōVI M5 Holiday Bundle includes the M5 Stabilizer, Spektrum controller, docking stand, batteries and battery charger along with the Pelican case.
WV MotionWorks is based out of Morgantown, WV and can be reached at http://www.wvmotionworks.com.