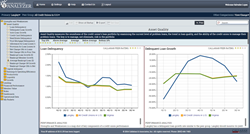 Washington, DC (PRWEB) January 05, 2015
The re-launch of Callahan & Associates' CUAnalyzer and CUTarget software products makes analyzing financial performance metrics easier than ever for both credit unions and credit union suppliers.
CUAnalyzer provides credit union executives and professionals with performance metrics in key areas, including asset quality, capital adequacy, productivity, and growth. Users gain insight into each metric with detailed definitions and dynamic analysis along with advice on how to make improvements. Pre-built packets for specific credit union departments give users the metrics most valuable to them.
With the improved CUAnalyzer, users can now:

Set performance goals on the metrics of their choice and systematically track progress
Create email alerts for data updates to specific metrics
Easily find needed information with the improved design and intuitive interface
Export pre-built and customized performance reports in PDF, Excel, and PowerPoint formats
CUTarget is designed to give industry suppliers the information needed to target credit unions that could benefit most from their solutions and identify current clients' performance needs. Suppliers can specify institutions and compare how they are performing against their peer group. They can also create marketing lists using financial and geographic filters to find cooperatives that best fit their client profile.
Users of CUTarget now have the ability to:

Set client goals relevant to their solutions and track their progress towards them
Keep up-to-date on the latest credit union trends by setting email alerts for data updates
Better understand key industry metrics with updated definitions and analysis points
For more information on CUAnalyzer and CUTarget, please contact Callahan & Associates at (800) 446-7453 or visit Callahan.com.
About Callahan & Associates
Callahan & Associates is dedicated to helping the credit union industry thrive. Our team of experts provides leading research, analytics, networking, and consulting solutions. More than 4,000 credit unions and industry suppliers rely on us for the latest data, actionable insights, and benchmarking tools to develop their unique competitive advantages and achieve their strategic goals. Our 30-year history has enabled us to build an unparalleled knowledge transfer consortium that connects the industry's best minds. To learn how you can join Callahan's network, please visit http://www.callahan.com.