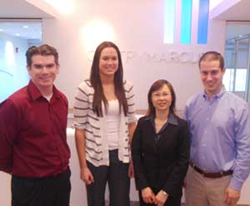 Woodbury, New York (PRWEB) January 01, 2015
Gettry Marcus CPA, P.C. announced further implementation of its expansion plans with the addition of four new accountants at their Woodbury, New York headquarters.
William McGinley, CPA, a resident of Merrick, New York, is a Senior Manager in the Accounting and Audit Group. He has experience assisting clients with business restructures and taking advantage of tax depreciation laws resulting in significant tax savings. Prior to joining the firm, McGinley was a Senior Manager at Anchin, Block & Anchin LLP, where he was employed for over 10 years. McGinley is a graduate of Hofstra University.
Maggie Wong, CPA, a resident of Flushing, is a Tax Manager at Gettry Marcus. She specializes in servicing clients in a broad range of industries with a concentration in wholesale, retail, manufacturing and publishing. Wong manages and reviews tax engagements of C and S Corporations, Partnerships, High Net Worth Individuals and Trusts returns. Prior to joining the firm, Wong worked as a Tax Manager for CBIZ MHM LLC for 14 years. She is a graduate of Baruch College.
Jason Goldberg, CPA, a resident of Flushing, is a Senior Accountant in the firm's Tax Group. He specializes in the preparation of tax returns, including individual, partnership, Corporation and trust returns. Jason also performs accounting services for a diverse range of clientele. Prior to joining Gettry Marcus, he worked for EisnerAmper LLP for six years in Private Business Services. Jason is a graduate of Yeshiva University and is an active member of the New York State Society of Certified Public Accountants and the American Institute of CPAs.
Kaitlyn Carballeira, a resident of East Setauket, joins the firm as a Staff Accountant. A 2014 Cum Laude graduate of Fordham University, Kaitlyn received a Bachelor's Degree in Accounting, and was on the Dean's list all four years. In addition, she was on the Atlantic 10 Commissioner's Honor Roll, as a member of the Fordham University Women's Soccer Team, for maintaining a 3.5 GPA or better (on a 4.0 scale) for all four years.
"My partners and I are very pleased to welcome William, Maggie, Jason and Kaitlyn to our firm," said Managing Partner Steven L. Marcus. "Their commitment to excellence and work ethics are consistent with the quality of client service that Gettry Marcus is known for. The entire firm looks forward to working with them," he concluded.
ABOUT GETTRY MARCUS
Gettry Marcus CPA, P.C. is a Top 200 firm nationally with offices in Woodbury, Long Island and New York City. We provide accounting, tax, and consulting services to commercial businesses, high net worth individuals and various industries which include Real Estate and Health Care. We have one of the premier and most credentialed Business Valuation and Litigation Groups in the New York Area.
Our experience in diverse industries and a highly talented and experienced professional staff gives us the ability to share valuable insights into our clients' businesses, to better understand their goals and problems and to help them attain the vision they have for their company.
Gettry Marcus is "Always Looking Deeper" to build value for our clients.