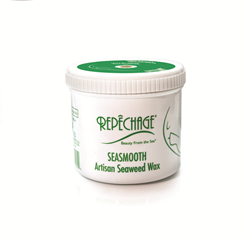 My goal was to create a wax that not only beautifully removes hair, but also helps to prevent and alleviate common sides effects on the skin associated with waxing." - Lydia Sarfati, Repêchage CEO & Founder
Secaucus, NJ (PRWEB) December 29, 2014
Redness, irritation, and premature re-growth – no more! Repêchage Professional Skin Care brings you The Gold Standard of depilation – Repêchage SeaSmooth Artisan Seaweed Wax!
"Waxing isn't just about hair. Wax comes in close contact with the skin – yet few are truly improving it. Clients are coming in for waxing appointments and leaving hair free, but they are also leaving with newfound redness, bumps, irritation and swelling. My goal was to create a wax that not only beautifully removes hair, but also helps to prevent and alleviate common sides effects on the skin associated with waxing," said Lydia Sarfati, Repêchage CEO & Founder.
Repêchage Professional Skin Care has been helping those with all skin types achieve beautiful skin for nearly 40 years, and has decided to use its number one ingredient - seaweed, to transform the depilation process. Artfully crafted for perfect depilation, Repêchage SeaSmooth Artisan Seaweed Wax is a soft, creamy wax infused with select sea plants that deliver vitamins, minerals and trace elements for unparalleled smoothness. This rich, creamy formula provides for precise application and adhesion. Zinc Oxide is added to provide natural antimicrobial action while Aloe Vera helps to relieve visible irritation. The new SeaSmooth Artisan Seaweed Wax from Repêchage is formulated for all hair types, and is especially perfect for those with sensitive and reactive skin.
As an introduction, Repêchage SeaSmooth Artisan Seaweed Wax Kit will be offered with Repêchage Vita Cura® Triple Action Nutrí Oil, Repêchage Skin Relief Soothing Gel, and specially designed, 100% natural, muslin strips – all to enhance the waxing experience. Repêchage Skin Relief Soothing Gel is a cocktail of Thermus Thermophilus, Aloe, Cucumber, Laminaria Digitata Seaweed, and Green, White, Black, and Rooibos (Red) Tea. This soothing gel works to instantly relieve any irritation and hydrate skin post-wax. Repêchage Vita Cura® Triple Action Nutrí Oil helps to repair skin with a blend of exotic ingredients, including Mafura Oil, Carrot Oil, Olive Fruit Oil, and Almond Oil. Specially designed, natural, unbleached muslin strips containing a high thread count will provide maximum adhesion and allow for perfect hair removal. All will be included in the introductory kit to ensure an outstanding wax experience for both the professional and client.
Sea the difference in your next waxing experience with Repêchage SeaSmooth Artisan Seaweed Wax!
About Repêchage: Since 1980, Repêchage has created a full range of nutrient-rich seaweed-based skincare products featured at top spas and salons globally. Forerunners in sea plant technologies and pioneers in seaweed treatments and cosmetics in the US, Repêchage researchers seek out specific seaweeds, beneficial for a range of skin conditions and therapeutic needs. The rich blend of vitamins, minerals, trace elements, amino acids and anti-oxidants in seaweed makes it an ideal main ingredient for re-balancing, hydrating, anti-aging and renewing benefits. Our seaweed is harvested from the Brittany Coast of France and processed right in the Repêchage headquarters in Secaucus, NJ. Our proprietary method of processing the seaweed delivers all the nutritive benefits from the sea to the skin.