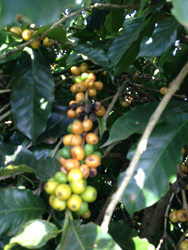 After cupping numerous prospects while in Brazil, we chose Fazenda Bela Vista for its outstanding flavor profile and socially and environmentally sound operations. - Greg Ubert
Columbus, Ohio (PRWEB) December 26, 2014
Ohio coffee roaster Crimson Cup Coffee & Tea has added Fazenda Bela Vista to its Friend2Farmer® line of direct-trade coffees. This UTZ-Certified coffee farm in Brazil's Minas Gerais region produces some of the highest quality coffee in the country's highlands.
"For our Friend2Farmer program, we continue to seek out awesome coffees where our purchases positively impact the growing community," said Greg Ubert, founder and president of the Ohio coffee roaster and coffee franchise alternative. "After cupping numerous prospects while in Brazil, we chose Fazenda Bela Vista for its outstanding flavor profile and socially and environmentally sound coffee operations."
Owner Antonio Lima Reis grows Catuai, Mundo Novo, Acaia, Rubi, Topazio, Catucai, and Yellow Bourbon coffee tree varietals on Fazenda Bela Vista, which is located near the town of Nepomuceno.
Crimson Cup carefully handcrafts small batches of this natural and washed coffee to a light roast, yielding flavor notes of peanut butter, apricot and honey.
"Friend2Farmer® is about empowering coffee farmers to produce an awesome crop to sustain their communities," Ubert said. "The farmers and their workers plant, cultivate, harvest and process the coffee. Crimson Cup then hand-roasts their coffee in small batches, which protects the integrity of the bean and the farmers' hard work. Finally, we introduce their coffee to consumers who can appreciate the dedication that these farmers have put forth."
Crimson Cup pays an above-market price for its Friend2Farmer coffees, which helps enable farmers to improve growing and living conditions. For example, Fazenda Bela Vista sponsors a primary school benefitting the children of workers and the rural community surrounding the farm.
UTZ Certified stands for sustainable farming and better opportunities for farmers, their families and our planet. The UTZ program enables farmers to learn better farming methods, improve working conditions and take better care of their children and the environment.
Friend2Farmer® coffees can be purchased online from the Crimson Cup website. They also are available at the company's own Crimson Cup Coffee House in the Columbus suburb of Clintonville.
About Crimson Cup Coffee & Tea
Since 1991, Crimson Cup Coffee & Tea has hand-roasted specialty coffee in Columbus, Ohio and taught independent business owners how to be successful through its coffee shop franchise alternative program. Sustainably sourced Crimson Cup coffee is available through a network of more than 350 independent coffee houses, grocers, college and universities, restaurants and food service operations across 28 states, as well as the company's own Crimson Cup Coffee House in the Columbus suburb of Clintonville. For more information, visit crimsoncup.com.