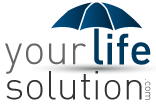 (PRWEB) December 27, 2014
YourLifeSolution.com, a service which displays life insurance quotes instantly online, is today encouraging consumers with life insurance policies issued in 2013 to review their options. According to the service, this is an excellent idea as many carriers have actually lowered their rates in the last year and a disproportionate number of the policies issued that year were simplified issue policies which usually cost more than their counterparts. "Not only have many carriers decreased their rates in the last year, but there are a few new offerings that have just debuted in 2014. It usually only takes a matter of minutes to see if better options are available and if so, the savings can very well be thousands throughout someone's lifetime if they execute a life insurance review early on in the policy before they become too much older for it to be advantageous," said Eric Smith, the founder and independent life insurance agent of YourLifeSolution.com.
YourLifeSolution.com can provide a life insurance review to any US consumer with a life insurance policy and who is willing to contact the service at 888.374.2764. Consumers who simply want to view their own instant life insurance quotes online can do so within YourLifeSolution.com's quote engine located on their homepage.