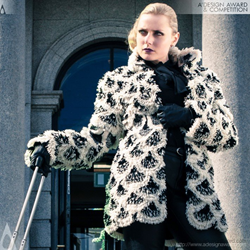 Como, Italy (PRWEB) December 28, 2014
A' Design Award and Competition is pleased to announce that the convertible coat design "Eco Furs" by Heli Miikkulainen-Gilbert has been granted the famed Golden A' Design Award in Fashion, Apparel and Garment Design Category.
Insights on Eco Furs
Heli Miikkulainen-Gilbert, the creative mind behind the awarded coat design Eco Furs, said, "The convertible coat is 7-in-1 ; you can configure it in various ways. The Eco Furs coat is designed for busy business woman who opt for a unique, ecological and functional daily wardrobe. For the Eco Furs coat, traditional yet trendy, hand-sewn Scandinavian Rya Rug textile is reinterpreted in a modern way which results in fitted woolen garments that are like furs in terms of their performance. The Eco Furs difference is in its details; it is animal and environment friendly. Along the years the Eco Furs have been tested in different European winter climates, which helped in developing the qualities of the coat and the other recent pieces into perfection." Learn more about the award winning design: https://competition.adesignaward.com/design.php?ID=30538
The Golden A' Design Award
The Golden A' Fashion Design Award is a prestigious award given to top 3% percentile designs that have exhibited an exemplary level of excellence in design. Entries to the A' Design Award & Competition are peer reviewed and anonymously judged by an expert jury panel of established design professors and prominent design editors as well as other professional designers who anonymously vote on entries following strict evaluation guidelines. Laureates of the A' Design Award & Competition are granted a series of public relations and promotion services to celebrate the success of winning the accolades. Laureates of the A' Design Awards are further published at DXGN and IDNN design news networks. Awarded designers are invited to attend the gala-night and award ceremony in Italy to receive their exclusive award trophies, yearbook of best designs and design excellence certificates. Award winning works are exhibited internationally in Italy, Ireland and Holland.
About A' Design Award and Competition
A' Design Award and Competition was established to push companies, designers and brands to create superior products that benefit and advance society. The aim of the A' Design Accolades is to create a global awareness and understanding for good design practices and principles, and to highlight the very best design examples in all industries from all countries. The A' Design Competition is organized annually and the results are published each year on April 15 during World Design Days. Learn more about the A' Design Accolades at: http://www.designaward.com