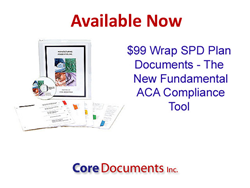 $99 ERISA SPD Wrap Documents by Core Documents
Bradenton, FL (PRWEB) December 31, 2014
Core Documents, the nation's premier provider of affordable Section 125 Cafeteria and HRA plan documents, has announced that they are offering ERISA Summary Plan Description Wrap documents starting January 1, 2015 for a $99.00 one-time fee.
ERISA requires that the sponsors of group health plans comply with certain disclosure requirements including the requirement to supply employees with an SPD. To be legally compliant with ERISA, an SPD must have certain statutorily defined specific information about the underlying plan that is specific to the employer and is not contained in the Certificate of Coverage supplied by your health insurance carrier. Thus, your SPD must include one or more documents you prepare and adopt in addition to the documents provided by your carrier; the documents supplied by your group insurance carriers are not a sufficient SPD.
The ERISA Group Insurance Summary Plan Description (SPD) Wrap document has been a Department of Labor (DOL) requirement for years, but not really policed. It's become an issue recently as the DOL has stepped up audit activity where the ERISA required SPD Wrap for group health insurance plans has been their focus.
See a recent Core Documents blog post with more details at: Employers must prepare an ERISA Wrap SPD to supplement the Certificate of Insurance
Core Documents, Inc. has been providing free consulting, affordable plan documents, and plan updates as needed for Section 125 Cafeteria Plans and Health Reimbursement Arrangements since 1997. See more information about these fringe benefit plans at Core Documents' website: http://www.coredocuments.com, or call toll free 1-888-755-3373.