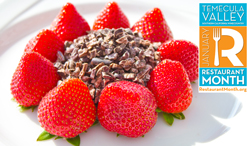 "Culinary getaways happily beckon in January in Temecula Valley Southern California Wine Country," announced Kimberly Adams, Visit Temecula Valley president and CEO.
Temecula, CA (PRWEB) December 30, 2014
TEMECULA VALLEY Southern California Wine Country, December 30, 2014 – "Culinary getaways happily beckon January 1 through 31 in Temecula Valley Southern California Wine Country. Combine special, tantalizing California Restaurant Month offerings at eateries from Old Town Temecula to Temecula Valley Wine Country, and from Temecula Valley breweries to Pechanga Resort & Casino, with an irrepressible variety of live music, and glorious adventures in the great outdoors," announced Kimberly Adams, Visit Temecula Valley president and CEO. "Stay over during less-busy weekdays to enjoy potential conversations with chefs, winemakers, and winery family members; and better-than-weekend, Sunday-through-Thursday, nightly room rates at Temecula hotels, motels, and resorts." Welcoming more than 2 million visitors each year, the casual, picturesque Temecula Valley is located 60 minutes from San Diego, Orange County, Palm Springs; and 90 minutes from Los Angeles. The popular boutique destination enjoys a welcoming year-round climate even in winter with 68o F / 20o C average-high, January daytime temperatures. Sunny days typically follow much-welcomed rain showers.
Temecula Valley Restaurant Month
In Temecula Valley, fresh, local, innovative, meticulously and intuitively created cuisine is always in season. Daily throughout January though, participating California Restaurant Month eateries provide diners with the chance to sample the Temecula Valley culinary scene at especially attractive, only-January-1-through-January-31 prices.
Temecula Valley Restaurant Month is the unique opportunity of the year to taste and savor the pleasures of food while stretching dollars and joyfully spending less. The yearly celebration commemorates all things fresh and delicious, and the creations of Temecula Valley's talented chefs.
Live Music
Temecula Valley's popular culture and entertainment includes intimate afternoon and evening, signature wine-and-live-music events. Throughout winter, gracious and friendly Temecula Valley wineries host a variety of live musicians at authentic winery venues including Baily, Callaway, Europa Village, Leoness, Lorimar, Miramonte, Oak Mountain, Ponte, and Robert Renzoni.
Rock and roll fans will want to make a multi-night stay in Temecula the second weekend in January. The Pechanga Theater hosts The Fab Four in the ultimate Beatles Tribute, January 9 and 10. Then on January 11, tribute ensembles to the Beatles and the Rolling Stones take the stage at the Old Town Temecula Community Theater for six alternating power sets and an amazing encore.
The Great Outdoors
Nothing compares to floating quietly over the open country of Temecula Valley Wine Country in the basket of a hot air balloon in flight. Witness the crisp of morning, spectacular views of the rolling hills, dormant vines row upon row, and snow-capped mountains that circle the valley. A Grape Escape, California Dreamin', and Magical Adventures launch at sunrise, 7 days a week, including holidays, weather permitting.
Golfers can celebrate the sport along the Temecula Valley Golf Trail. Journey at Pechanga is ranked as one of California's greatest courses by publications including Golf Magazine and Golf Week. Temecula Creek Inn golf course features three distinctive nines including the Stonehouse 9; with its dramatic elevation changes, it is Temecula Valley's most challenging course.
To learn about Temecula Valley Restaurant Month specials and prix fixe lunch and dinner menus, offered throughout January 2015, please go to RestaurantMonth.org.
*Information is believed accurate but may be subject to change.
ABOUT THE TEMECULA VALLEY AND VISIT TEMECULA VALLEY
With natural gifts of climate and geography, bolstered by Pu'eska Mountain, the Rainbow Gap, and Santa Margarita Gap, Temecula Valley is widely recognized for its scenic vineyards, award-winning wines, and gracious and friendly wineries as Temecula Valley Southern California Wine Country. The popular boutique destination includes the Temecula Valley A.V.A. (American Viticulture Area) as well as Downtown, Old Town Temecula, Pechanga Resort & Casino, and the Temecula Valley Wine Country Golf Trail, and is home to three-time award-winning California Golden State Winery of the Year, South Coast Winery.
Visit Temecula Valley (formerly the Temecula Valley Convention & Visitors Bureau), the region's official tourism marketing organization and resource for visitors is online including a complete daily Events Calendar at VisitTemeculaValley.com; "Temecula Valley Southern California Wine Country on Facebook; and @Visit_Temecula on Twitter. Visit Temecula Valley also welcomes ad agencies, location scouts, writers, and directors online at FilmTemecula.com. The Temecula Valley Visitors Center is located in Downtown, Old Town Temecula (Third Street and Mercedes) adjacent the Old Town Temecula Parking Garage. For visitor information and assistance, please call 888/363-2852 or 951/491-6085.
###