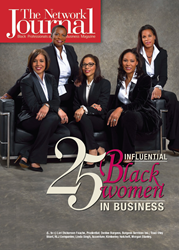 New York, NY (PRWEB) March 18, 2014
"The women we are honoring this year are at the forefront of American leadership and symbolize the diversity and advancement that has occurred across industry lines," states The Network Journal's (TNJ) Publisher and CEO Aziz Gueye Adetimirin.
#TNJ25 2014's extraordinary women are:
Rhonda Spears Bell, Senior Vice President, Marketing and Communications, National Urban League
Traci Otey Blunt, Senior Vice President, Corporate Communications and Public Affairs, The RLJ Companies
Denise Burgess, President and General Manager, Burgess Services, Inc.
Pamela Carter, President--Cummins Distribution Business, Cummins, Inc.
Margot James Copeland, Chair, KeyBank Foundation and Executive Vice President, Director, Corporate Diversity and Philanthropy, KeyBank
Michellene Davis, J.D., Executive Vice President, Barnabas Health
Karen DuBois-Walton, Ph.D., Executive Director, Elm City Communities/Housing Authority of the City of New Haven
Marta Effinger-Crichlow, Ph.D., Chair and Associate Professor, African American Studies Department, New York City College of Technology-CUNY
Linda D. Forte, Senior Vice President, Business Affairs and Chief Diversity Officer, Comerica Bank
Lori Dickerson Fouché, Chief Executive Officer, Prudential Group Insurance
Kimberley Crews Goode, Vice President, Communications and Corporate Affairs, Northwestern Mutual
Laurie N. Robinson Haden, J.D., Senior Vice President and Assistant General Counsel, CBS Corporation
Kimberley Hatchett, Executive Director, Private Wealth Advisor, Morgan Stanley
Tanya D. Holcomb, J.D., Chief Litigation Counsel and Assistant General Counsel, Honeywell International Inc.Lynne Holden, M.D., President, Mentoring in Medicine, Inc.
Cheryl Kinnon, Field Sales Vice President - OTC, SoftSheen-Carson, L'Oreal
Lori E. Lightfoot, Esq., Partner, Mayer Brown LLP
Tamla D. Oates-Forney, Senior Executive - Human Resources, GE Africa
Ursula Dudley Oglesby, J.D., President, Dudley Beauty Corp., LLC
Denise L. Pease, Regional Administrator for the Northeast and Caribbean, US General Services Administration
Danielle M. Robinson, Ph.D., Director, Alcohol Policy and Reputation Management, Diageo North America
Brenda Ross-Dulan, Executive Vice President and Region President, Wells Fargo and Company, N.A.
Linda L. Singh, Managing Director, Accenture
Cheryl B. Walker-Robertson, Chief Protocol Officer, Protocol International
Teresa L. White, Chief Operating Officer, Aflac and Executive Vice President of U.S. Operations, Aflac
For more about the 2014 Class, please visit http://www.tnj.com/25-Influential-black-women/2014
The select group are profiled in the '25 Women' (Spring 2014) issue of the magazine, and will be formally honored during Women's History Month at the 16th Annual 25 Influential Black Women in Business Awards Luncheon presented by Morgan Stanley on Thursday, March 27, 2014. This signature TNJ event, which is highly anticipated each year, will be held at the New York Marriott Marquis Hotel, located at 1535 Broadway (between 45th & 46th streets) in New York City, from 11:00 a.m. to 2:00 p.m. This year's sponsors include: Morgan Stanley, L'Oréal USA, Entergy, Macy's, AfricaStrictlyBusiness.com and WBLS-FM.
The program includes a cocktail networking reception, lunch and awards presentation with Mistress of Ceremonies Michelle Miller, correspondent and anchor for CBS News programs and recipient of the National Association of Black Journalists' Award of Excellence. A signature TNJ event, it attracts a "Who's Who" of business executives and decision makers from various industries. Tickets are $300.00 if purchased before March 20th and $350.00 thereafter.
Please visit http://titlestand.com/public/issue?id=10056472&subId=5222 to purchase a digital edition of this monumental 25 Influential Black Women in Business issue.
About The Network Journal
Founded in 1993, The Network Journal (TNJ) is an award-winning magazine published quarterly. It provides news and commentaries on issues that affect the growth of business and the advancement of professionals in the workplace for an audience of predominantly African-American professionals, corporate executives and small-business owners. Engaging more than 98,325 readers per issue, TNJ is distributed nationwide, with a focus on the New York tri-state area, while its sister daily publication at tnj.com reaches a global audience. For more information call (212) 962-3791, or visit the Web site at http://www.tnj.com.