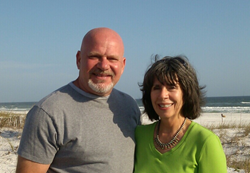 Our No. 1 goal is prompt, courteous, dependable and discrete service. When you need to call, rest assured that I answer.
Santa Rosa Beach, Flordia (PRWEB) August 01, 2014
A tropical storm has suddenly developed in the Gulf of Mexico, heading straight toward the Florida panhandle. It doesn't look like it's going to be catastrophic, but there is one problem: Absentee owners are hundreds of miles away from their beautiful – and empty – beach house with no way of making sure it's secure. That's where Ross Nurrito, owner of I Check Homes, comes in. I Check Homes provides regular home inspections (up to four times per month) to give absentee homeowners peace of mind.
"Living on the Gulf Coast, you never know what's going to happen," says Ross. "Our No. 1 goal is prompt, courteous, dependable and discrete service. When you need to call, rest assured that I answer."
I Check Homes inspections include landscaping, pools, irrigation systems, air condition and heating units, smoke detectors, alarm systems, locks, plumbing and appliances. The home will be visually inspected for surface cracks, water intrusion and pests. I Check Homes will remove flyers and newspapers, and start and idle vehicles weekly. And what about the aforementioned storm scenario? Ross personally notifies homeowners about severe weather, conducts post-storm inspections and arranges for emergency repairs. Owners can finally leave their home for extended periods of time knowing that when they return, it will be exactly as they left it.
Ross Nurrito, a fourth generation baker, was a highly respected business owner in New Jersey and Arizona before he and his wife Lois built their dream home in Santa Rosa in 2013. Ross knows that the best relationships are built on honesty and integrity, and he has the credentials to prove it: Visit I Check Homes' website to see a copy of the handwritten letter Mother Teresa sent Ross when she found out about his New Jersey bakery's policy of donating leftover baked goods to soup kitchens at the end of each business day.
"My life has truly been blessed, and I believe in paying it forward by helping others," says Ross. "Whether I'm donating leftover bread or making sure someone's home is safe and secure, I know I'm making a difference."
I Check Homes, an insured and bonded company based out of Santa Rosa Beach, Fla., provides safe, trusted and secure home monitoring services tailored to individual needs. For more information, visit http://www.icheckhomes.com or call 928-300-8363.