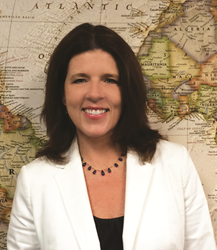 'We are pleased to appoint someone of Jackie's caliber to the North American team and given her impressive track record in the cruise industry, we are confident our trade business will thrive.'
Fort Lauderdale, FL (PRWEB) August 08, 2014
All Leisure Holidays North America, the Sales and Marketing office of Voyages of Discovery, Swan Hellenic and Hebridean Island Cruises, has appointed Jackie Morris as the new Director of Sales. She will report directly to Steve Tucker, President of All Leisure Holidays, North America.
Morris brings more than 20 years of experience in the travel and tourism industry. During her early career she worked on cruise ships, as a retail travel agent, and for a cruise consortium. She was based in Atlanta, Georgia during her first District Sales Manager position calling on retail travel agents throughout the Southeast.
In 1996 Morris joined Disney as a DSM on the launch team for Disney Cruise Line and was promoted to Regional Sales Director in 1999 when the three independent sales teams merged. She managed a sales team covering 15 states and representing Disney Cruise Line, Walt Disney World Resort in Florida and Disneyland in California. In 2005 she relocated to the London office for Disney Destinations International. Morris led the Disney-owned tour operator, Walt Disney Travel Company-UK selling vacation packages to Walt Disney World Resort in Florida to UK guests. She then moved into the newly created position leading sales efforts for Disney Cruise Line based in the UK when the fleet expansion from two to four ships was announced.
Steve Tucker, commenting on Morris' appointment, stated: "We are pleased to appoint someone of Jackie's caliber to the North American team and given her impressive track record in the cruise industry, we are confident our trade business will thrive." Morris added: "I'm both eager and excited to represent and promote the cruise brands of All Leisure Holidays to the US travel agency community and to play a key role in growing the business in North America."
Morris joins All Leisure Group on August 6, 2014 and will be based at the company's North American office in Fort Lauderdale, Florida.
All Leisure Holidays is the sales and marketing office in North America for All Leisure Group PLC. All Leisure Group PLC has six brands under their corporate umbrella, including three escorted tour brands that do not trade outside the UK, as well as three globally marketed cruise brands specializing in discovery cruising: Voyages of Discovery, Swan Hellenic and Hebridean Island Cruises. The three cruise brands are distinct with their own customer profiles and price points, but are combined in their focus on enrichment and discovery cruising, which is about combining the chance to relax at sea on small ships featuring stylish onboard amenities and hospitality, with the opportunity to discover the world's great sites and cultures in the company of experts. For more information call (866) 623-2689 or visit http://www.voyagesofdiscovery.com, http://www.swanhellenic.us or http://www.hebrideancruises.com.