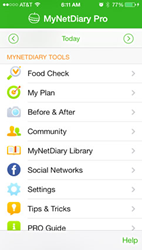 I tried a few other diet logs, but this one seems to be the best for me.
Cherry Hill, New Jersey (PRWEB) October 09, 2014
MyNetDiary, a prominent health tech company with over four million members worldwide, announced today the release of a new version of MyNetDiary PRO for iPhone that includes integration with iOS 8 HealthKit, Apple's newest health app that merges multiple health, calorie counter, and fitness trackers into one display.
"Foods and nutrients tracked by members using the latest iOS 8 platform and the MyNetDiary PRO app can now be sent to Apple's HealthKit," says Sergey Oreshko, CEO of MyNetDiary. "We plan to extend syncing capabilities in the near future to include body measurements and workouts, but first we will be doing extensive testing of data provided by other third-party apps, to ensure no calories are double-counted."
The new version of the app sends to HealthKit each food logged in the food diary, along with up to 30 different nutrients and exact food consumption time. And to protect its members' privacy, MyNetDiary turns the sync OFF by default. A user must manually enable "iOS Health App Sync" on the app's Settings screen by turning it on.
Other updates in PRO v4.23 include full optimization for iOS8, iPhone 6, and iPhone 6 Plus. The app now supports Touch ID on devices with fingerprint scanners. MyNetDiary also addressed other known issues and fixes to improve performance.
Following the app update, MyNetDiary's Calorie Counter PRO was added into the App Store's hand-picked collection of innovative "Apps for Health."
"Every day we work to improve our service in order to be the best diet app on the market," says Oreshko. "We always read and appreciate helpful reviews from our users and members. They keep us in touch with providing exactly what people need to be healthy and track their calories."
One recent PRO app reviewer remarked, "Helps me easily manage food intake and exercise. After three weeks, I'm down 4lbs. One of the things I like to do is scan barcodes of food while I'm shopping. The 'food score' helps me decide what to put in my shopping cart...a lot better to make the right decision in the store than to wait until I get home."
Another writes, "I tried a few other diet logs, but this one seems to be the best for me. I really like how it gives you specific guidance as to what types of food to eat and what food to avoid. The other neat feature is the pedometer so I can see if I'm walking enough and how it compares to other days."
The MyNetDiary iPhone Calorie Counter PRO app is available for download here: https://itunes.apple.com/us/app/calorie-counter-pro-by-mynetdiary/id352247139?mt=8 To contact MyNetDiary's Marketing Director, Ryan Newhouse, call (800) 385-7461 ext. 1015.