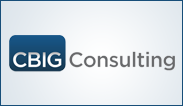 Chicago, IL (PRWEB) January 08, 2014
Earlier this week, CBIG Consulting confirmed the firm's 2013 revenues exceeded expectations for the second straight year, eclipsing CBIG's already impressive numbers from 2012.
Principal and Big Data analytics expert Chris Ford noted that CBIG management has worked diligently this year to improve operational efficiencies as well as leverage increased demand with a more progressive rate structure. Citing benchmark data against 2012 results, Ford said that CBIG's 2013 consulting revenues increased by 20 percent, profitability increased by 30 percent, and its total head count increased by 20 percent.
Named a "Top Business Intelligence and Big Data Analytics Consultant" and a "Top Marketing Analytics Consultant" by research firm SourcingLine in 2013, Ford stressed that he and his partners believe CBIG's commitment to knowledge sharing and recruitment of top talent have helped CBIG become an international standard bearer in evolving innovative, trademarked solutions in big data, business intelligence, and data warehouse consulting. "When we engage new staff, they come on board knowing we actively promote a strategy of creative thinking and teamwork to encourage new ideas and contributions. The positive impact on our bottom line is gratifying proof that this approach works." Late last year, CBIG also implemented an employee profit-sharing agreement to reward the dedication and efforts of its staff.
When asked what CBIG's goals were for 2014, Ford replied that CBIG anticipates growth in Big Data, Cloud-based BI, Master Data Management, and Data Science consulting opportunities. He added, "We're starting to see real success in developing pre-engineered, vertical services specific to unique industries like health care and life sciences, consumer packaged goods, finance, and utilities, to name a few. We can't wait to see what our teams come up with in 2014."
About CBIG Consulting (CBIG):
CBIG Consulting, a division of Chicago Business Intelligence Group, Inc., is an international team of experts in Data Warehousing, Business Intelligence, Big Data Analytics, and Cloud-based Analytics platforms. CBIG consultants average fifteen years of direct experience in the field working with global enterprises, mid-size businesses, and non-profit organizations in solving mission-critical reporting and analytical needs. CBIG is headquartered in the Chicago, IL area, and has additional offices in San Francisco, CA, Boston, MA, Denver, CO, Austin TX, and Sydney, NSW, Australia. For more information, please visit http://www.cbigconsulting.com.