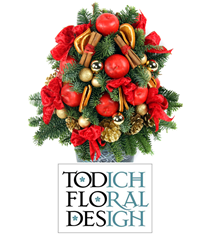 (PRWEB UK) 18 December 2014
Todich Floral Design is up on the latest trends for this season's Christmas flowers and festive designs. Their top florists remain dedicated all the way through the holiday season, fastidious about the quality and freshness of flowers used, and turning out innovative designs all the way up until the New Year. Their floral artwork can be found integrated into corporate flowers London businesses use to evoke the holiday spirit, as well as in seasonal bar flowers and plants designs, hotel flowers, and private events flowers. The varying styles in these arrangements are classic, contemporary-sheik, or a balance of both—something clients, guest and customers can all enjoy.
But one thing is for certain: the winter season is already in full swing—and matching flowers are an essential part of any party, gift, or décor. And no matter what kinds of floral designs London businesses choose for their display, Christmas and New Year's are almost here. Since they are fast approaching, there aren't many excuses left for any more shop windows without a wreath, or bar tops missing ivy and poinsettias. Hotel interior design and hotel floral arrangements, such as lobby floral arrangements and some restaurant flowers, are another seasonal spectacle that Todich Floral Design is excited to be a part of in 2014. Londoners would do well to keep their eyes peeled for some of these designs, the best of which are decked out with lots of snowy whites, simpering reds and evergreens. These floral delights are surely some of the best this Christmas and winter season has to offer.
Though creativity is key when it comes to floral art, there are definitely some basic tenants to any Christmas design—certain kinds of flower displays, blossom types, colours, scents and textures. Todich Floral Design has a recommended list of popular Christmas floral features and season's trends that are reflected in London's December winter landscape. These Christmas flowers can be spotted popping up in bars, hotel lobbies, and businesses across the city.
Christmas Bouquets
Colours are consistent in these designs—red, green and white—with accents of gold, decorative whites mimicking frost and silver. But the types of flowers used will vary. Classic designs can use red heirloom roses, anthuriums and juniper berries, mixed with ebullient green leaves. Slightly more contemporary are white lilies, and arrangements that incorporate ornaments, ribbons, foil and twine. Todich Floral Design's Christmas bouquets are ideal for hotel lobby decoration, centrepiece flowers for restaurants, and gifts at private events.
The Wreath
Undoubtedly one of the most popular symbols for Christmas, the wreath can be seen hanging from more than just the doors of homes. They are a part of any corporate florists designs, as well as those made up by restaurant florists in London and anybody after quality event floral design. The effect of the wreath is instantaneous, and the cheer as effusive as any strong, sincere welcome. Wreaths can combine scents of cinnamon, pine, and walnut—a luxurious pleasantry for guests, or an aromatic moral booster for employees.
Christmas Plants
Christmas plants are apt to get a little less press than other kinds of Christmas flowers, but Todich Floral Design is changing that. Potted poinsettia plants are vibrant and friendly. And a bush of Hyacinths in a basket is a lovely seasonal gift for anyone. Acting as a nice balance between office flowers and office plants, either one of these lightens up a private office or desk on some of the shorter days in winter.
Holiday Baskets and Christmas Treats
Combining a rich visual experience with gustation is an old tradition, one that any event florist in London would do well to continue. Seasonal baskets use complementary flavours and foods—wines, sweet chocolates and fruits. And like many of the flowers used in their arrangements, these seasonal baskets carry a second holiday meaning: they bring people together, encouraging them to share the moments that matter most.