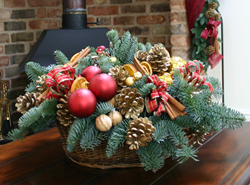 (PRWEB UK) 18 December 2014
With Christmas just around the corner and New Years on the horizon, Flowers24Hours has put on a grand and lavish display of Christmas flowers and wintery gifts, from Christmas bouquets to fine chocolates to wines, bound to keep Londoners warm and in festive spirits all the way through the jolliest of seasons. Don't be surprised, either, to find plenty of these luxury floral displays popping up in some of London's finest hotel flower arrangements or as flowers for restaurants. And any of the event florists in London keeping tabs and lists on the city's best flower delivery are definitely keeping Flowers24Hours towards the top.
Year after year, London florists creatively compete against each other and all of the previous Christmas season's flower arrangements, trying to come up with fresh and innovative floral designs that make perfect gifts for friends and family, and while also meeting the demands of professional clients across many different industries. There's no way to miss the effusive floral colour effects—variations of classic red, green and white—with the textures of winter as well. Find pine needles, pinecones, woven baskets, bark, and satiny ribbon are key features in plenty of hotel interior design. Hotel flowers decoration and restaurant florists in London are both using light in their classic arrangements, by including candles and Christmas tree ornaments.
This season Flowers24Hours is recommending some of their larger kinds Christmas flower arrangements for events flowers. These arrangements are as versatile as they are all encompassing of the season, and can be displayed in many different venues and spaces. Corporate florists in London might use a classic Christmas Pine Wreath with cinnamon sticks as an aromatic decoration in place of restaurant flowers, or as office flowers London employees are sure to love. For private events at homes or event flower design that aims for a more intimate feel, the London florist is using two rustic basket arrangements that capture the warmth and beauty of nature embodied by Christmas itself. The Timeless Beauty arrangement, with candles and red roses, is a glowing treat to behold on countertops, tables and hearths. The Colours of Christmas, with ornaments and pinecones, delights the eyes and the nose with brisk evergreen beauty and pine scents to fill up homes.
Flowers24Hours is also pleased to release an array of more individualized flower arrangements and Christmas treats. The prim and modest Poinsettia plant is the perfect office plants or office flowers gift, and a gesture of true friendship. The poinsettia plant's recognizable red and green leaves are a delight on dark days and cold nights. The flower shops more flamboyant and illustrious arrangements, like its Enchanted Box, Seasons Greetings or warm and sensual Christmas Bouquet, are very likely to grace and accentuate some of this year's Christmas romance. Gold and frosted decorative pinecones, twine, ribbon and ornaments are carefully and cohesively incorporated into these arrangements, enhancing the brightness and beauty of the flowers. It leaves little room for doubt that anyone on Christmas won't absolutely love them.