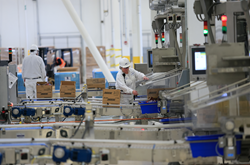 We're proud that this state-of-the-art site engages cutting-edge environmental standards, setting an example for others to follow.
St. Louis, Mo. (PRWEB) November 12, 2014
CRB proudly announces the Mars Chocolate North America manufacturing facility in Topeka, Kansas has earned LEED® Gold Certification. Beginning in 2010, CRB worked side-by-side with Mars Chocolate North America to ensure successful completion of preliminary and detailed architectural and engineering design for the $270M, roughly 500,000 square foot facility.
"We're proud that this state-of-the-art site engages cutting-edge environmental standards, setting an example for others to follow," said Bret Spangler, Site Director - Topeka, Mars Chocolate North America. "Mars is committed to putting our principles into action to drive leadership in sustainability. LEED Gold certification for the Topeka facility is another shining example of our ambitious goal to make our factories and offices 'Sustainable in a Generation.'"
To meet the stringent requirements to become LEED Gold certified, the site includes several sustainable systems and features, including: state-of-the-art heat recovery systems, rain water harvesting for sewage transfer in the office area and for landscape irrigation, low-flow water fixtures, energy-efficient lighting, reusing and recycling building materials, use of native grasses without irrigation, and use of local and regional materials.
CRB completed the detailed design and construction support with the responsibility for all architectural and engineering design disciplines. The entire design was modeled using Revit Arch and MEP for detailed on board reviews with construction drawings and contractor coordination reviews generated from the design model.
About CRB
CRB is a full-service network of engineers, architects, constructors and consultants assisting advanced technology organizations in the planning, design, construction and operational support of facilities across the globe. With world-class technical expertise and an empowered team of 600-plus, we relentlessly pursue and deliver the right solutions to our clients' technical challenges, no matter how big or small. CRB has thirteen production offices located in: Kansas City, Mo.; St. Louis, Mo.; Raleigh, N.C.; Philadelphia, Pa.; San Diego, Calif.; San Jose, Calif.; Los Angeles, Calif.; San Juan, Puerto Rico; Kalamazoo, Mich.; Boston, Mass., Boulder, Colo., Baltimore, Md., and Atlanta, Ga.
For more information, please visit http://www.crbusa.com. Follow us: linkedin.com/company/crb-consulting-engineers, facebook.com/crb1984, twitter.com/crb_usa.
About Mars, Incorporated
In 1911, Frank C. Mars made the first Mars candies in his Tacoma, Washington kitchen and established Mars' first roots as a confectionery company. In the 1920s, Forrest E. Mars, Sr. joined his father in business and together they launched the MILKY WAY® bar. In 1932, Forrest, Sr. moved to the United Kingdom with a dream of building a business based on the objective of creating a "mutuality of benefits for all stakeholders" – this objective serves as the foundation of Mars, Incorporated today. Based in McLean, Virginia, Mars has net sales of more than $33 billion, six business segments including Petcare, Chocolate, Wrigley, Food, Drinks, Symbioscience, and more than 75,000 Associates worldwide that are putting its Principles into action to make a difference for people and the planet through its performance.
Mars brands include: Petcare – PEDIGREE®, ROYAL CANIN®, WHISKAS®, BANFIELD® Pet Hospital, CESAR®, SHEBA®, DREAMIES® and NUTRO®; Chocolate – M&M'S®, SNICKERS®, DOVE®, GALAXY®, MARS®, MILKY WAY® and TWIX®; Wrigley – DOUBLEMINT®, EXTRA®, ORBIT® and 5™ chewing gums, SKITTLES® and STARBURST® candies, and ALTOIDS® AND LIFESAVERS® mints. Food – UNCLE BEN'S®, DOLMIO®, EBLY®, MASTERFOODS®, SEEDS OF CHANGE® and ROYCO®; Drinks – ALTERRA COFFEE ROASTERS™, THE BRIGHT TEA COMPANY™, KLIX® and FLAVIA®; Symbioscience – COCOAVIA® and WISDOM PANEL®.
For more information, please visit http://www.mars.com. Follow us: facebook.com/mars, twitter.com/marsglobal, youtube.com/mars, linkedin.com/company/mars.