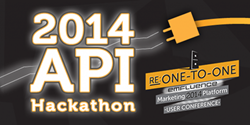 The API lets developers get even more value from emfluence because we can put the data to work in so many new ways.
Kansas City, MO (PRWEB) July 10, 2014
KC firm wants to make advanced digital marketing and marketing automation easier than ever for clients.
Digital marketing firm, emfluence, is dedicated to building a bigger, more innovative toolbox to help its customers reach their customers. The emfluence Marketing Platform allows marketers to create, deploy, and track online campaigns that include email, social media, landing pages, and other tools.
But the company's latest offering – an API with more than 50 endpoints – could make that toolbox exponentially bigger—an API, or application programming interface, is a set of rules and tools that let developers build an app that can interact with another Web-based service. The formalized API gives clients and developers a clear path for integration without involvement from emfluence technicians.
The API will let users easily sync the data they gather via emfluence to Salesforce.com, Google Maps, Microsoft Dynamics and a host of other third-party services.
"We're always upgrading and expanding our platform's 'toolbox,' and an API was one of our most frequent requests," said David Cacioppo, president and CEO of emfluence. "We want to make it easier than ever for our customers to execute their next big idea using their own customer data."
To show exactly what the new API can do, the company hosted its first-ever emfluence Hackathon on June 18 as part of its annual user conference. Teams of developers were given 48 hours to create a use case for the API and test just how far they could take the functionality.
The winning project was a lead-scoring application that uses engagement metrics from emfluence to help sales professionals and marketers identify which of their contacts are high-quality leads, based on how often they open, click or engage with emails from the user.
Other Hackathon projects included:

An application that integrates email openers with Google Maps, allowing a marketer to physically locate customers as they open emails based on IP address
A mobile reporting tool that lets users track the metrics of their digital marketing campaigns from their mobile phones. As a bonus, this tool integrates with Twilio, an SMS application, to reach out to non-responders by text message
An app that helps users instantly connect their emfluence database with their contacts in Salesforce.com, sharing email address, contact data, and even email metrics between platforms
"emfluence's platform already offered a comprehensive set of data tools and email reporting," said emfluence strategist and winning team member, Tyler Barnes. "But the API lets developers get even more value from emfluence because we can put the data to work in so many new ways."
"I loved working with the emfluence Platform on this project," said Clayton Mellgren, a developer for another one of the participating teams. "Having access to the API means I can use emfluence's tools to act on customer data, and can use any tool, even on mobile devices, to act on emfluence's data."
Previously, emfluence customers could transfer their data to third-party services via Web services, scheduled data syncs and other methods, but the API will provide a more seamless experience that allows developers to secure access to data in their emfluence account without having to work through an emfluence developer.
The emfluence API is currently in beta, and current emfluence customers can request an API key from their account manager to get started.
All new accounts will be equipped with an API key from the start.
About emfluence:
Based in Kansas City, Mo., emfluence is an award-winning, full-service interactive marketing agency that works with clients in virtually every business category. Its team of marketing and technology experts helps brands connect with customers more accurately, more often, and with less hassle (http://www.emfluence.com).