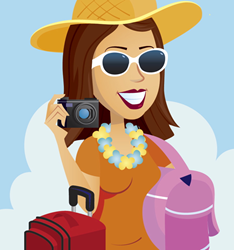 We're reviewed dozens of apps and determined which are the best for families
Natick, MA (PRWEB) August 05, 2014
Recognizing that families are increasingly using their smartphones to plan their vacation, FamilyTravelMagazine.com has put together a comprehensive list of the top apps to download for family vacations. The guide includes apps for mobile photography, road trips, vacation planning, and much more.
"With all of the apps that are available, it can be difficult to figure out which ones are worth downloading," said FamilyTravelMagazine.com's editor, Jodi Grundig. "We're reviewed dozens of apps and determined which are the best for families."
Most of the fifteen apps included in the guide are free. Included in the list are:
TripIt (fee for premium service)
Last Minute Travel
Gas Buddy
The entire list can be seen on FamilyTravelMagazine.com.
Family travel expert and FamilyTravelMagazine.com editor Jodi Grundig is available to discuss any of this information on air or over the phone.
About FamilyTravelMagazine.com: Passionate about promoting family vacations that help a family bond, FamilyTravelMagazine.com reviews hotels, destinations and attractions and reveals special deals and promotions at hotels across the U.S. Jodi Grundig, mom of two with an MBA and ten years in corporate finance, is a sought-after brand ambassador, travel writer, mom blogger (since 2007) and brand consultant. An avid traveler and travel blogger, Jodi has written about some of the best family vacation hotspots, including Hawaii, Maine, Quebec City, Phoenix, AZ, Grand Cayman, the White Mountains of New Hampshire, and Martha's Vineyard.