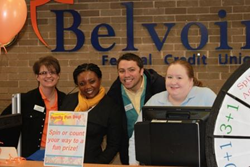 Woodbridge, VA (PRWEB) March 04, 2014
On Saturday, March 1, 2014, Belvoir Federal Credit Union hosted its 5th Annual Family Fun Day located at the South Post branch on Fort Belvoir, VA. The event welcomed hundreds of parents, students, and military members who enjoyed a cookout, entertainment from WMZQ 98.7, and games for the children.
Belvoir Federal celebrated Family Fun Day with financial activities, such as the Money Machine which had real money for children to grab and keep, face painting, a coloring area, and a coin counting area, allowing children to win prizes.
Family Fun Day has become an annual tradition for Belvoir Federal as it is the perfect setting to have fun and demonstrate the importance of financial education to families through interactive games. Family Fun Day is a way for members and non-members to see the benefits of Belvoir Federal's products and services, ranging from saving money and investing wisely to earning above market rates on checking and receiving low rates on loans.
About Belvoir Federal Credit Union
Belvoir Federal is a member-owned, full-service financial institution that provides the foundation for the financial success of our Members. Belvoir Federal, a not-for-profit organization, has served the Fort Belvoir and U.S. Armed Forces community since 1946 and named 2014 Best Places to Work in Virginia. For more information about Belvoir Federal, please visit http://www.BelvoirCreditUnion.org.
###