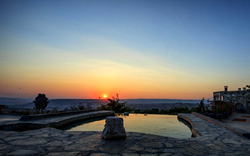 (PRWEB) May 14, 2014
Five Star Alliance (http://www.fivestaralliance.com), the leading inclusive directory of luxury hotels and resorts, has just released recommendations for new and exciting honeymoon destinations. These five star properties span the globe and range from boutique hotels in historic cities to brand-new beach properties. Lounging on the beach for a honeymoon is nothing to sneeze at, but for the newlyweds who want something different, Five Star Alliance recommends these unusual post-nuptial spots.
Cappadocia, Turkey
Why Visit:
This Anatolian region is a UNESCO world heritage site known for its cave structures. Dwellings have been hewn from the rock as far back as 4,000 B.C. During Byzantine times chapels and monasteries were hollowed out of the rock, their ochre-toned frescoes reflecting the hues of the surrounding landscape. It is 30 kilometers from Nevsehir Airport.
Where to Stay:
Cappadocia Cave Resort and Spa is built right into a mountain and offers a spectacular view over the dramatic landscape. The exclusive spa area offers all kinds of treatments, from steam baths to an experience shower with sound and light effects, to a couples massage.
The Museum Hotel, Cappadocia, has just 30 rooms and suites. The unusual living museum concept means the cave rooms and specially restored traditional rooms are decorated with antiques and have wonderful views of the historic city.
Hue, Vietnam
Why Visit:
The city is located in central Vietnam on the banks of the Perfume River, just a few miles from the East Sea. Hue has various points of interest, such as the Citadel, the Tombs of the Emperors, Thien Mu pagoda, and Dong Ba market. Other attractions include Bach Ma national park, Lang Co beach, Truc Lam Zen monastery, and Thuan An beach.
Where to Stay:
Vedana Lagoon Resort & Spa is nestled on the shore of a peaceful and serene lagoon, with stunning views across one of the largest lagoons in Southeast Asia. It offers stylish interior decoration on an area of 27 hectares.
Pilgrimage Village is ideally located in the quiet countryside in a rustic village setting, surrounding by lush tranquil gardens, yet near to famous historical landmarks. With 99 rooms and villas, the resort is warm and inviting. Hue airport is just 20 minutes away.
Cuzco, Peru
Why Visit:
Cuzco was the historic capital of the Inca Empire and is a UNESCO World Heritage Site. It is one of Peru's most visited spots as it is a convenient city from which tourists can begin visits to Machu Picchu. It is located 7,000 feet above sea level and is nestled in a small hilltop between the Andean Mountain Range with a generally dry and temperate climate.
Where to Stay:
Aranwa Sacred Valley Hotel & Wellness is located in the Urubamba Valley on the banks of the river Vilcanota. The hotel's property spreads over 10 hectares. Unno Spa includes a hyperbaric chamber, hydrotherapy pools, Vichy shower treatment rooms and meditation, and aromatherapy oxygen.
Belmond Palacio Nazarenas is a former palace and convent set in a tranquil plaza behind Cuzco's main square. This intimate urban retreat has just 55 suites, each enriched with oxygen, and with its own private bar where guests can create drinks using the fresh ingredients grown at and around the hotel.
Umag, Croatia
Why Visit:
With a coastline filled with stunning beaches, Umag is an established summer destination in Europe. It is known as the town of tennis because it hosts many tennis camps and the ATP Vegeta Croatia Open. Beautiful architecture, delicious restaurants, and unrivaled scenery add to the city's undeniable charm. The Golden Lion, a popular international festival of chamber theatre, is held in Umag.
Where to Stay:
Hotel Monte Mulini is situated in a beautiful and quiet location, but close to the town of Rovinj. Maistra's boutique hotel is the perfect starting point for sightseeing, a wine trail tour, or time in the sun and sea.
Kempinski Hotel Adriatic is surrounded by picturesque olive groves and vineyards, and offers breathtaking views over the Adriatic Sea. Things to do include treatments at the 3,000 square foot duplex spa, and a few rounds at the first professional 18-hole golf course in the region.
Doha, Qatar
Why Visit:
Located on the coast of the Persian Gulf, the modern Doha skyline contrasts with the surrounding desert. Things to do in Doha include playing world-class golf, off-road desert cycling, beach trips, and fossil hunts. Popular attractions include the City Centre Doha Mall, the Corniche Promenade, and the acclaimed Museum of Islamic Art. The city will host the 2022 FIFA World Cup.
Where to Stay:
The Torch Doha is 300 meters high and has panoramic views of the city. It is located on Al Waab Street, 30 minutes from the airport and 20 minutes from the city center. Hotel guests have private walkway access to Doha's largest shopping mall Villaggio.
Sharq Village and Spa's fourteen courtyard houses are located on one thousand meters of private coastline. Guests can tour the village streets, cool off in the two pools, recline on an outdoor majlis, or shop at the village souq. The hotel is operated by The Ritz-Carlton Hotel Company, B.V.
Other Recommended Locations:
-Ras Al Khaimah, United Arab Emirates: A destination with year-round sunshine, white sandy beaches, and world class resorts. It's just 45 minutes from Dubai International Airport.
-Lanai, Hawaii: 9 miles from Maui, the smallest inhabited island in Hawaii is all unspoiled beaches and serenity.
-Port Antonio Jamaica: This quiet and beautiful haven has both jungle trails and impressive museums.
-Almaty Kazakhstan: The largest city in Kazakhstan has a spectacular mountain backdrop and is a winter sports haven.
-Herzliya, Israel: 10 minutes from Tel Aviv, this coastal city offers water sports, boating, and hiking.
ABOUT: Five Star Alliance has been named one of the "Best Travel Web Sites" and is an endorsed member of IATAN, the International Airlines Travel Agent Network. Five Star Alliance is an independent boutique web site that assists travelers find and book the ideal luxury hotel from a collection that currently numbers over 4000 hotels in 193 countries. Consumers find and return to http://www.FiveStarAlliance.com, the only fully comprehensive, editorial website directory of luxury hotels and resorts, for helpful recommendations, exclusive content, competitive rates, exclusive packages and world-class customer service.