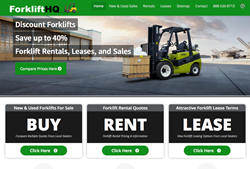 In an ongoing attempt to find the best forklift deals for its visitors, the US Forklift Network just launched two new websites
Moorestown, NJ (PRWEB) January 14, 2014
In an ongoing attempt to find the best forklift deals for its visitors, the US Forklift Network just launched two new websites targeting the consumer needs of forklift users nationwide, adding another dimension to the already popular ForkliftArticles.com site that just celebrated its first anniversary. The new websites, ForkliftDealers.com and ForkliftHQ.com add two new levels of service to the comprehensive forklift product information network.
According to a company spokesperson, "each of the U.S. Forklift Network sites caters to a special need within the forklift community. Our goal is to cover every aspect of the industry of interest to consumers in order to ensure that they are informed of the rapid changes taking place in product efficiency, safety and productivity and giving them access to the latest information on product development to help them make decisions about the best fit for their unique material handling needs." ForkliftHQ.com focuses on the best deals on new and used forklifts, forklift rentals and forklift leases. ForkliftDealers.com is a well-organized annotated directory of forklift dealers in targeted locations which simplifies a buyer's search according to categories such as special features, brands and customer service.
As with all the U.S. Forklift Network sites, the new releases are state of the art, user friendly, highly professional and rely on a team of forklift professionals to keep them current, fresh and accurate. The site's popularity is partly attributed to the essential role forklifts play in the world economy. In fact, one of the most popular articles on the Network's charter site, ForkliftArticles.com, concerned the critical role forklifts play in the movement of products from manufacturer to distributor to consumer because of e-commerce. Other factors contributing to its success is the quality and scope of the information it provides.
Based on the continuing popularity and growth of the U.S. Forklift Network of websites, we can expect more from them in 2014. Meanwhile, anyone with even the slightest interest in the forklift industry should take a look at ForkliftHQ.com and ForkliftDealers.com.