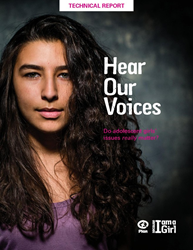 "This study is of enormous importance, highlighting the real challenges and barriers girls all over the world face." -- Sarah Hendricks, Global Gender Equality and Inclusion Advisor, Plan International
Canada (PRWEB) October 06, 2014
In a groundbreaking new global study, conducted by Plan International and released today in Canada, adolescent girls in developing countries revealed that they do not see themselves as having or deserving of rights, and said they are constantly limited, constrained, and subjected to injustices that stunt their opportunities in life.
The global report, Hear Our Voices: Do Adolescent Girls' Issues Really Matter?, is being released in Canada in advance of the third annual International Day of the Girl on October 11, 2014. Plan International spoke directly with more than 7,000 adolescent girls and boys aged 12-16 in 11 countries across Asia, Africa, Central and South America, making this one of the largest studies of adolescent girls' rights to be conducted in the development sector.
In addition, Canadian girls also provided their views to Plan Canada in a separate focus group discussion involving a small but diverse group of girls from across the country. The Canadian girls were asked questions similar to those posed to the girls and boys canvassed across Asia, Africa, Central and South America for the global report, and they shared similar perspectives about violations of their rights, discrimination, harassment, and other severe concerns related to gender.
"This study is of enormous importance, highlighting the real challenges and barriers girls all over the world face. Whether they are burdened with housework that prevents them from attending school or at risk of teenage pregnancy and sexual assault, girls rights are being violated every day, and this is the first time we have really heard from so many adolescent girls on these topics," said Sarah Hendriks, Global Gender Equality and Inclusion Advisor for Plan's Because I am a Girl programs. "While these findings are not new, we can't ignore now the level of violation, as the results bring thousands of daily lived realities into vivid colour. The plight of girls can only truly improve when everyone in society values girls as much as boys."
The global report also shows that things are getting better for girls – though far too slowly in many areas. For instance, many girls are now able to dream of completing school and having a brighter future. Forty-one per cent of the adolescent girls Plan spoke to said that girls always or often complete at least nine years of school in their communities. Of girls interviewed, 72 per cent said that adolescent girls are always or often encouraged to succeed in their schoolwork as much as boys. Similarly, 71 per cent of adolescent boys said that girls are always or often encouraged academically as much as boys in the classroom.
Other key findings from Plan's global Hear Our Voices report:

39 per cent of girls Plan spoke to claimed that girls never or seldom are able to decide about their own marriage. Globally, one in three girls in the developing world will be married by her eighteenth birthday.
Violence against girls is frighteningly normative – girls expect to be victims of violence, and the levels of violence that they experience are seen as normal. Girls seldom feel free from violence at home, in communities, and at school. In fact, 77 per cent of girls Plan spoke to in one Bangladesh community claimed that adolescent girls never or seldom feel safe in their community.
Over half (51 per cent) of girls involved in the study said that adolescent girls never or seldom say what they think when a boy or man is around.
Over half (53 per cent) of girls Plan spoke to claimed that adolescent girls never or seldom decide if they become pregnant. Complications in pregnancy and childbirth are the leading cause of mortality for girls aged 15 to 19 in developing countries.
"At home, we are sometimes sexually harassed by our relatives whom we can never report as they will be our guardians." - Girl from Zimbabwe
"Girls do not have decision-making power over pregnancy. The male says to them 'You are machines to birth children'." - Girl from Pakistan
"I'm scared to go outside home after sunset because there is no security now to protect the girls."- Girl from Egypt
Canadian girls, meanwhile, also spoke of experiences of violations of their rights, discrimination, harassment, and other severe concerns related to gender. They reported ongoing fear for their personal safety when travelling to and from school, work, or going about their other daily routines and social outings, and many expressed feeling like a target for assault and violence because they are girls.
"Safety is such a basic human right that is often taken away from girls. I want to walk my dog by myself, go shopping or take the bus, any basic activity but I'm constantly on edge." - Girl, 17, Newfoundland
"As much as we'd like to think that we're safe, we really aren't. We're told from a very young age that guys will always have the upper hand and that we should avoid late-night encounters because if something goes wrong, society will tell us that it was our fault." - Girl, 18, Ontario
Canadian girls also identified an urgent need for action to be taken by schools, government, law-makers, and families to engage boys and men in addressing and stopping violence, violation of girls' rights, and discrimination against girls in all forms. They felt that too often blame and onus is placed on girls to protect and keep themselves safe, while there is not enough emphasis and action placed on preventing the violations they experience, which is often carried out by men and boys.
"The global study provided an opportunity for girls and boys across the developing world to reflect on their own empowerment and equality, with a view to encouraging them to re-consider their views and potentially take action to address the issues," said Hendriks. "We'll make sure that this evidence is used in our own and others work on gender equality and girls' empowerment. It means that advocates everywhere will be armed with fresh insights into the plight of girls, enabling further influence on policy makers."
About Plan and the Because I am a Girl initiative
Founded in 1937, Plan is one of the world's oldest and largest international development agencies, working in partnership with millions of people around the world to end global poverty. Not for profit, independent and inclusive of all faiths and cultures, Plan has only one agenda: to improve the lives of children. Because I am a Girl is Plan's global initiative to end gender inequality, promote girls' rights and lift millions of girls – and everyone around them – out of poverty. Visit plancanada.ca and becauseiamagirl.ca for more information.