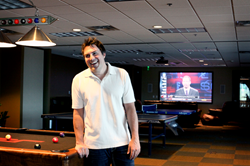 Apple's watch will send you your Facebook updates, give you access to Siri and even put health tracking and GPS right on your wrist. It's a virtual iPhone with a wristband. Of course, the watch also shows the time and date since it is a watch
Scottsdale, AZ (PRWEB) September 25, 2014
Earlier this month, Apple unleashed its latest innovation, the Apple Watch. The launch created significant Internet buzz, as the watch is a change from the tablets and phones that have been the focus of Apple's tech innovations in the past few years. In a recent phone interview between Media News Online and Jason Hope, entrepreneur and futurist, pointed to the launch as just one in a long list of new connected devices that are making the Internet of Things a reality.
"Apple's watch will send you your Facebook updates, give you access to Siri and even put health tracking and GPS right on your wrist. It's a virtual iPhone with a wristband. Of course, the watch also shows the time and date since it is a watch," explains Mr. Hope.
"The Apple Watch is just one in a long list of connected devices hitting the market this year or in the coming year," states Hope. "As each of these devices hits the general market, the Internet of Things is coming closer to part of our everyday life."
Trackdot is another of these innovations. This simple tracking device will show travelers where their baggage is. They can simply stash the Trackdot into the luggage, then the device will send updates about the suitcase's whereabouts, so travelers can use their time more efficiently instead of waiting on the carousel for lost luggage.
SkyBell is yet another innovation. This futuristic doorbell will beam pictures of the person at the door to the computer or mobile device. If the visitor is welcome, the SkyBell offers remote access to open the door.
"With devices like this on the market or on the way, including the Apple Watch, it's easy to feel like we are living in an episode of a science fiction television show," states Hope. "These devices will change the way we use our phones, drive our cars and protect our homes, and make life much more convenient."
About Jason Hope
Jason Hope is a Scottsdale native and futurist who believes in the power of technology to improve health and day-to-day living. His entrepreneurial efforts have helped develop important innovations in the worlds of health and technology. He also works with numerous charitable organizations, both in Arizona and throughout the country. Most recently he has been working with the SENS Research Foundation to find a cure for aging. Learn more about Jason Hope at http://www.jasonhope.com.