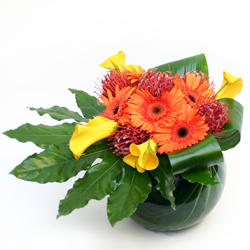 (PRWEB UK) 23 June 2014
Most people know that each month has a star sign and a birthstone; however, not as many people know that each month has its own specific birth flower too. As we move into June, it seems like the perfect time to celebrate the Rose, June's own birth flower, and the London same day flower delivery service offered by online florists and flower shop, Flowers24Hours, makes the entire process of buying gifts online or sending flowers so much simpler.
Flower delivery within and around London with Flowers24Hours is an unbelievably good value, and London florists even offer free standard delivery available on all flowers and gifts. If the order is coming from outside of London, just order by 3:30 p.m. for free next day delivery. That isn't all either, the flower delivery shop also offers same day delivery for flowers delivered in London as long as the order is placed before 5 p.m.
Roses are beautiful plants that are exceptionally popular when being sent as a gift, and yet not many people are aware of the many hidden meanings behind the vast array of colours that these flowers can come in.
Online florists, Flowers24Hours.co.uk, is here to bring light to this unspoken topic in order to help everyone pick a rose that holds much deeper sentiment than it might have had previously before this knowledge.
Red Roses:
Red Roses are the most commonly thought of flower and typically, they are sent to a partner in order to show love and passion. However, they can also be sent as a token of respect or sent to those who have shown courage.
Pink Roses:
Typically, pink roses are given when wanting to display thanks or admiration for the recipient; as a result, they can make perfect gift flowers.
White Roses:
It is quite often seen that white roses are given to those who are innocent and pure; as a result of this, they are commonly used in wedding bouquets.
Yellow Roses:
Yellow roses are seen to express joy, and so they are often given as a token of friendship, or to new mothers, newlyweds, and graduates. Yellow roses aren't quite as commonly seen, which can make them ideal when wanting to send a gift that makes a unique statement, but one that still holds a deeper flower meaning behind it.
Roses by numbers:
The amount of roses that are sent can also impact the meaning. For instance, sending just one single rose of any colour shows complete devotion and love for the recipient. Sending two roses entwined together symbolises an engagement, while sending eleven roses shows the receiver that they are truly and deeply loved.
Flowers24Hours has a wide range of roses for same day delivery and roses for next day delivery to pick from the online florist shop. The collection includes some that come singularly in the colours listed above, and others that are mixed amongst each other or other flowers to add a wider meaning to the gift.