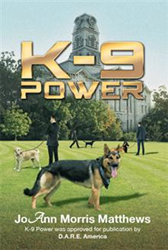 The bigger the issues, the wider the net needed to stop illegal drug trade… Knowledge and Awareness are key in fighting distribution, sales and use of drugs."
SAN ANTONIO (PRWEB) December 08, 2014
The illegal drug industry is a global trade that rakes in billions of dollars every year according to the United Nations Office on Drugs and Crime website. Illegal drugs affect the lives, health and relationships of many people. Author JoAnn Morris Matthews joins the crusade against illegal drugs with the release of her new book, "K-9 POWER" (published by Xlibris).
"K-9 POWER" is her second book in a series situated in Granbury, Texas. This book focuses on trained dogs who risk their lives daily to make the world a safer place in which to live. Matthews not only pays tribute to the unceasing loyalty and expertise of trained K-9s and their handlers, she encourages readers to be proactive in the fight against illegal drugs. Combining fiction and non-fiction, she tells the story of 10th graders who, with the help of K-9 handlers and their dogs, become more observant ultimately contributing to the welfare of their community in a positive manner.
"Whether in the economically poorest or wealthiest of communities, issues involving illegal drugs must be taken seriously," says Matthews. "The bigger the issues, the wider the net needed to stop illegal drug trade… Knowledge and Awareness are key in fighting distribution, sales and use of drugs."
"K-9 POWER" discusses some of today's more pressing issues in a manner easy to digest even for young readers.
"K-9 POWER"
By JoAnn Morris Matthews
Hardcover | 6 x 9in | 48 pages | ISBN 9781499029314
Softcover | 6 x 9in | 48 pages | ISBN 9781499029338
Available at Amazon and Barnes & Noble
JoAnn Morris Matthews was born in Fort Worth, Texas. The author lives in San Antonio, Texas, having lived 17 years in Granbury. Matthews is a member of the Society of Children's Book Writers & Illustrators (SCBWI) and attended the Institute of Children's Literature. A writing enthusiast since the age of eight, she has enjoyed publications in periodicals, magazines and newspapers. She is also the author of the books "Move Over Miss Clover," "The Trouble with Mojo," "Red, White and Who" and "Road Warriors – Life Lessons."