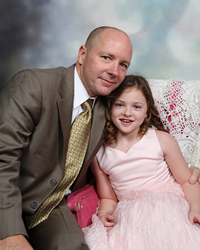 Over the past several months Mallory has displayed a mental clarity that has eluded her for most of her childhood. We feel like we finally have our daughter back. - Dr. Thomas F. Minahan
Corona, CA (PRWEB) March 19, 2014
Doctor Thomas F. Minahan gives his 11 year-old daughter Mallory medical marijuana to treat her pediatric epilepsy. Faced with the difficult decision of giving her relatively harmless cannabis oil or a prescription drug that could potentially take her life, Dr. Minahan and his wife Carrin decided to challenge their conservative beliefs and give medical marijuana a try. "For us this isn't a choice, it's something we have to do," said Dr. Minahan. "The results have been amazing."
Director of Emergency Medicine and attending Physician at one of the busiest trauma centers in Southern California. Dr. Minahan is Board certified in Emergency Medicine and has been practicing for over 15 years. He knows firsthand the devastating effects of epilepsy as he has watched Mallory suffer from intractable (unsuccessfully treated) seizures since the age of fourteen months. "It breaks your heart as a parent, seeing your child suffer," he says. As a physician, Dr. Minahan has watched in helpless frustration as varying treatments, specialty diets and prescription drugs have at first offered hope, only to end up failing in the end.
In 2013, their renowned epilepsy specialist suggested one last drug to try and stop the violent seizures but it could come at a cost. The medication had a possible side effect of shutting down Mallory's bone marrow production and could result in her death. When asked if there were any other alternatives, the doctor said, "Well you could try cannabis, but there's no scientific research that supports its effectiveness." Coincidentally, around that time CNN aired a controversial special hosted by Dr. Sanjay Gupta touting success stories of children who were experiencing promising results from medical marijuana.
Very little scientific data exists in relation to the medicinal properties of cannabis as a treatment for epilepsy. What is theorized is that a chemical in the marijuana plant, Cannabidiol (known as CBD) has properties that help alleviate seizures in children. CBD is non-psychoactive, with almost no side effects.
The Minahans immediately saw positive results in their daughter's reaction to the marijuana medication. "Within weeks, Mallory went from an average of 40 seizures a month to less than a dozen. Mallory has displayed a mental clarity that has eluded her for most of her childhood. We feel like we finally have our daughter back," Dr. Minahan said. Since Mallory started her cannabis regimen, she has re-entered school and continues to flourish with improved mental alertness.
Deciding to go public with their story, the Minahan's are trying to bring awareness to the need for research, development and potency regulation of the marijuana drug. "I absolutely DO NOT endorse cannabis as a drug to be used to get high," Dr. Minahan said. "But that niche of people who could benefit medically from it deserve the scientific research and development it will take to ease their suffering," he concluded.
The Minahan family has since created "Mallory's Hope" as a conservative community forum and resource for parents who have children with seizures. "Mallory's Hope" strives to educate the public and urge elected officials to allow legal research and development of cannabis-based medications. It supports content and potency regulation so that parents could be confident in consistently delivering proper dosage of marijuana medication to their children. "Overcoming the politics of pot is what is important now," said Dr. Minahan. "The positive results seen in Mallory and countless other children demonstrate the importance of researching cannabis for its medicinal and healing properties."
Visit Mallory's Hope at http://www.MallorysHope.com or follow Mallory's Hope on Facebook at http://www.facebook.com/SupportMallorysHope.
Dr. Minahan is available for interviews and speaking engagements on the subject of pediatric epilepsy and can be reached at info(at)malloryshope(dot)org.
For media inquiries, interviews or speaking engagements, please contact Kelly Bennett at Kelly(at)BPUnlimited(dot)com or call 949-463-6383.
Kelly Bennett,
Bennett Productions Unlimited
(949) 463-6383
Kelly(at)BPUnlimited(dot)com
http://www.BPUnlimited.com
@KellyBPU