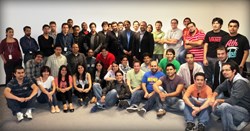 As mobile development continues to grow along with the demand of new and better apps, having a team of talented developers is crucial and Immercio is a great opportunity for us to learn and share experiences. - Guillermo Ortega, COO of iTexico
Austin, TX (PRWEB) January 14, 2014
iTexico will be part of Immercio, the Nearshore Executive Alliance's Annual Conference, that will take place on January 23 in Guadalajara, Mexico. iTexico will be supporting the roles of nearshore web and mobile development and boost business between US and Mexico.
MexicoIT jointly with the Nearshore Executive Alliance brings the inaugural Immercio outsourcing conference focused on Latin America's IT and BPO industry. This is a great opportunity to discover the best practices of nearshoring and generate relationships within the community. This conference is principally aimed for buyers who will have a better understanding of nearshore opportunities to leverage their business and how they can connect to leading countries through networking opportunities as well. Immercio will also make provide the right space for providers to expand their relationships and become more competitive in the inclusive environment of the conference.
"As a web and mobile app development company that offers nearshore services with a delivery center in Guadalajara, we couldn't miss the opportunity to be part of such a great initiative like Immercio to share our point of view and connect with more entrepreneurs and companies that understand the immense value that countries like Mexico provide for clients in the US and and how talented are engineers and professionals in this region" - Anurag Kumar, CEO of iTexico
NEA has worked hard to make Immercio a world-class event, not only for attendees but speakers and exhibitors as well. It is aimed to become an environment that promotes the exchange of ideas, build new relationships and get immersed into the atmosphere of the event.
iTexico, a nearshore mobile app development company based in Austin Texas, will be attending the event with a booth on the exhibitors hall to support and promote nearshore as an alternative in the outsourcing universe, especially in the technology arena where mobile has become a major role for vendors and technology partners. iTexico's CEO, Anurag Kumar, and COO, Guillermo Ortega, will be present to share their experience in the nearshore area and lessons learned since they founded iTexico.
"We have a good relationship with MexicoIT and it is always a great pleasure to be part of their initiatives. We are pleased to support them in breaking mental barriers and paradigms about doing business in Mexico as it is portrayed by the media. There is a lot talent here in Guadalajara that always impresses any new customer looking to build world-class web and mobile apps. As mobile development continues to grow along with the demand of new and better apps, having a team of talented developers is crucial and Immercio is a great opportunity for us to learn and share experiences with other companies and create new business opportunities. " - Guillermo Ortega, COO of iTexico
Attendees will have the opportunity to listen to industry leading speakers discussing about the biggest trends and inquiries in the nearshore industry, such as changing a troubled image of cities and countries in Latin America and revealing the true value that exists behind them. Mexico confidential, which presents the advantages of Mexico for outsourcing solutions compared to other outsourcing destinations that are traditionally used by companies in the United States. Featured speakers at Immercio include executives from Citi, JPMorgan Chase, United Healthcare, HP, Stewart Information Services Corp and many more leading companies in technology and innovation.
Nearshore, or nearshoring, is a new type of outsourcing that offers many advantages, keeping alive the promised benefits of software outsourcing. Minimal travel restrictions, time zone differences that are almost null, NAFTA protection and many other benefits are available to companies that choose to leverage business opportunities by nearshoring their operations.
For more information about Nearshoring Mobile Application Development, visit iTexico.
About iTexico
iTexico is an American company with a subsidiary in Guadalajara, Mexico. Founded in 2009 and headquartered in Austin,TX, iTexico currently employs more than 60 expert resources in mobile and web technologies who are constantly trained in the state-of-the-art technologies, platforms and languages to provide a world-class service to their customers. By partnering with industry leading companies in outsourcing referrals and services like Accelerance and other strategic partners in the mobile development arena like Appcelerator with their Cross-Platform development tool Titanium Studio as well as Xamarin with their .NET based mobile development tool, iTexico will continue to bring a great deal of value to their customers through tailored dedicated teams or what is called Extended Team as a Service (eTaaS) and leverage the existing pool of talent in places like Mexico to seamlessly complement existing on-site and off-site teams for clients in the US.