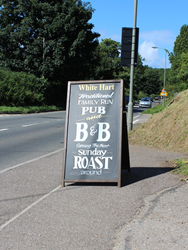 Now the Pub Inn Guide brand and existing members are part of the Pub Rooms services, a superior service can be provided to our visitors.
(PRWEB) February 28, 2014
The Pub Inn Guide provided the majority of independent UK pubs with accommodation a free website when brought back online in 2012.
Being one of the oldest pub directories didn't make any difference to existing members and like most pub directories it didn't meet the expectations of pub owners. "Now the Pub Inn Guide brand and existing members are part of the Pub Rooms services, we can further improve how people searching for pubs with accommodation can find them easier," says, Pub Rooms Marketing Direct Peter Jones.
Jones goes on to state how "the pub trade is still reluctant to use social media and pub directory services to update their weekly offers and distribute news through online services." Jones goes on to warn freehouse B&B pubs & inns that they "run the risk of losing out to the managed brands should they neglect how people are trying to find venues to meet, eat, drink and stay."
Pub Rooms has been looking forward to taking over the Pub Inn Guide since Dec 2013. Now the service is in Pub Rooms' control moving forward, progress will be far more rewarding. The delayed responsive website design is now in full development with scheduled transfer completed by May 2014.
This is a great opportunity for pubs with accommodation rooms to be part of the UK's oldest established pub guides for pubs with rooms, says Andrew Mason the manager of the pub rooms guide. The challenges for pubs and inns during 2014 and beyond won't be which services to use to increase bookings, it will be who is updating them and how fast they can do it.
For more information on the Pub Rooms services, pubs should contact 0845 3881071.