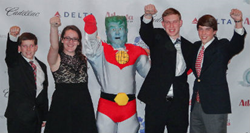 The students' powerful ideas and exuberant participation once again reinforced our belief that youth really can change the world – now," said Jodell Seagrave, Rocket21 Co-Founder and COO.
San Francisco, CA and New York, NY (PRWEB) December 10, 2014
The Rocket21 Dream Green 2014 competition, in collaboration with environmental education organization, Captain Planet Foundation, invited Generation Z students ages 8 through 17 to share their innovative solutions to protect the environment. In addition to cash prizes, winning students earned the opportunity to participate in a series of VIP events including the Captain Planet Foundation Eco-Gala in Atlanta, a highly acclaimed event that honors the world's most effective environmental advocates, change-makers and innovators.
Hawaii 17 year-old Brittany Amano and Connecticut 15 year-old Thompson Whiteley were tied for top honors as National Grand Prize Winners in the Competition's Teen Category. 12 year-old Benjamin Woodard of North Carolina led the field in the Under 13 Category. 16 year-old Trevor Currie of St. Louis, MO and 16 year-old Autumn Graves of Springfield, IL were named as National Runners-up.
Amano, a student at James Campbell High School in Ewa Beach, Hawaii said, "I am very honored to have been selected. It is imperative for youth to be a part of the solution to ensure a cleaner and more sustainable world in the future. Mahalo nui loa for giving me this amazing opportunity and to all the honorees for the amazing work they're doing in paving the way for a green future."
Whiteley, a freshman at Deerfield Academy in Deerfield, Massachusetts offered, "I've always had a deep passion and appreciation for animals and the natural environment.This experience allowed me to interact with renowned scientists and pioneers, such as Dr. Jane Goodall, and the subsequent conversations are what continue to fuel my passion."
Woodard, a 6th grader at Speight Middle School in Stantonsburg, North Carolina noted, "Rocket 21 has changed my life! It was exciting to meet other people that share my love for animals and to see how one person could make a difference!"
"The students' powerful ideas and exuberant participation once again reinforced our belief that youth really can change the world – now," said Jodell Seagrave, Rocket21 Co-Founder and COO. "We were awestruck by the entrants, and honored to host these amazing, top-scoring youth in Atlanta."
The students' selections as Grand Prize Winners included personal rewards and recognition – as well as opportunities to engage with and learn from this year's Captain Planet Awardees. In addition to cash rewards and a trip to the December 5th Captain Planet Foundation Gala, the group went behind-the-scenes with CNN International Anchor Natalie Allen as she interviewed this year's honorees: Primatologist Dr. Jane Goodall, Climatologist Dr. Marshall Shepherd and One More Generation co-founders Olivia and Carter Ries, along with special guest Larry King. Each of the winning students has been invited to participate in a paid internship program, as environmental bloggers for Rocket21.com. The winning students also attended a private event featuring Dr. Goodall at Zoo Atlanta, and participated in immersion education events at The Georgia Aquarium.
Noted Captain Planet Foundation Executive Director Leesa Carter, "I am so impressed by the inspiring young environmentalists who entered the Dream Green competition on Rocket 21. It was an honor to meet the winners at our Gala!"
Currie, a junior at Kirkwood High School in Kirkwood, Mo. added, "It is so inspiring to be surrounded by people that share your passion and have the opportunity meet people that live my dreams!"
Graves, a junior at Lanphier High School in Springfield, IL exclaimed, "Science is my passion! It's what I love, and my love for it is what drives me to help preserve and protect the earth! This trip to Atlanta was a real eye opener for me and I plan to apply everything I've learned here."
To view the winning entries or learn more about the Dream Green Competition and Rocket21, click here.
About Rocket21
Rocket21 is the opportunity and innovation platform designed to safely connect kids and teens with professionals and experts representing industries, professions, passions, and movements that span the globe. Rocket21 provides youth with unprecedented opportunities and access to world-class experts and organizations while protecting them with a combination of state-of-the-art, real-time filtering and human moderation, extensive safety and security precautions, and a specialized infrastructure designed to keep kids safe.
Like Rocket21 on Facebook and follow @Rocket21 on Twitter. For more information contact Media Relations at media(at)rocket21(dot)com.
About Captain Planet Foundation
Based on the critically-acclaimed cartoon series, Captain Planet and the Planeteers, the Captain Planet Foundation (CPF) was co-founded in 1991 by Ted Turner and Barbara Pyle. The mission of CPF is to give the next generation of environmental stewards an active understanding and love for the natural world in which they live. Our unique program of funding and supporting hands-on environmental projects is designed to encourage innovative initiatives that inspire and empower children and youth around the world as they work individually and collectively creating environmental solutions in their homes, schools and communities. For more information on the Foundation, call 404-522-4270 or visit http://www.captainplanetfdn.org.