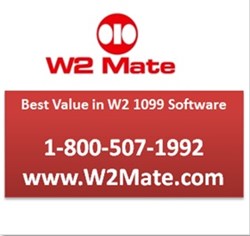 Keeping up with all the 1099 filing regulations can be a bit overwhelming and time consuming for business filers. That is why we built W2 Mate, the easy-to-use W2 1099 processing solution for businesses and tax professionals.
Chicago, IL (PRWEB) November 19, 2013
Real Business Solutions, makers of payroll and 1099 software solutions, announced today that its 1099-K compliance module is now available for immediate download from its website at http://www.realtaxtools.com/. The new module can be used by entities required to file 1099-K returns under Section 6050W of the Internal Revenue Code.
The 2013 1099-K information reporting module can be used by CPAs, accounting professionals and business filers to manage the whole cycle of generating 1099-K forms for furnishing to individuals and for reporting to the federal government and state departments of revenue.
IRC Section 6050W requires 1099-K forms to be filed for each calendar year by credit card companies (merchant acquiring organizations) and third party settlement entities with respect to credit card transactions and third party payment network transactions occurring in that calendar year.
The new system from Real Business Solutions, can E-File 1099-K tax forms with the Internal Revenue Service through the IRS FIRE service and generate password-protected 1099-K forms in PDF format. The PDF 1099s can then be emailed to recipients instead of paper copies, which delivers tangible money and time-saving benefits to users.
A free 2013 1099 K printing and e-filing software evaluation can be downloaded from http://www.realtaxtools.com/. Customers can purchase the software and receive it instantly.
Real Business Solutions has been developing year-end compliance software and solutions for small business and accounting professionals since 2003. W2 Mate 2013, the W2 1099 processing program offered by the company, provides compliance tools for paper and electronic filing of 2013 federal and state 1099, W-2 and series forms including W2, 1099-MISC, 1099-INT, 1099-DIV, 1099-R, W-3, 1096, 1099-S, 1098-T, 1098, 1099-A, 1099-B, 1099-C, 1099-K, 1099-PATR and 1099-OID.
In a statement Nancy Walters, W2 Mate product manager at Real Business Solutions said, "We are proud to offer this powerful 1099-K Software to the business and tax professionals community because it will greatly reduce time and effort for 1099K compliance."
The 2013 / 2014 1099K filing module inside W2 Mate saves users time and money by printing 1099-K forms copy B (For Recipient) and Copy C (For Payer) on regular white paper. This eliminates the need to buy expensive laser red-ink forms. All substitute forms generated by this 1099 tax software comply with 2013 IRS publication 1179 (General Rules and Specifications for Substitute Forms 1096, 1098, 1099, 5498, W-2G, and 1042-S).
W2 Mate is the perfect software program for business filers looking for answers to questions like how to file 2013 1099K, how to electronically file 1099-K with the IRS in year 2013, how to send form 1099 copy to my state department of revenue, how to process 1099-K using Sage Peachtree (50), how to print 2013 1099 K forms and many other similar questions.
Thanks to its powerful import wizard, W2 Mate program can remap 2013 1099 data stored inside different accounting packages into 1099-K forms. W2 Mate can import data from Sage Peachtree, Intuit QuickBooks (QuickBooks Pro, QuickBooks Enterprise, QuickBooks Premier), Sage DacEasy, Microsoft Dynamics(GP or SL), excel sheets and many other sources.
Risk-free trial of W2 Mate 2013 can be downloaded from http://www.W2Mate.com/. Customers can purchase W2 Mate and receive it instantly.