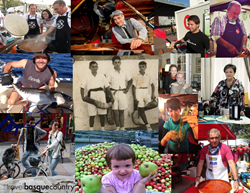 People were always asking us, 'What is there to do in Bilbao other than visit the Guggenheim Museum?' So we made a list. - Javier Salazar, founder, TBC.
Bilbao, Spain (PRWEB) March 27, 2014
Travel Basque Country, a travel experience website that connects visitors with local guides throughout Spain's Basque region, has released a list of 50 Ways to Enjoy the Basque Country. Visitors can choose from a wide selection of cultural, gastronomic, architectural, historical, family-oriented and hard-to-find experiences and book directly with independent local business owners.
Famed as the location of the Guggenheim Museum in Bilbao, the Basque Country is a treasure-trove of world-class restaurants, traditional villages, unspoilt countryside and places of interest. Whether traveling as an individual, family or small group, here is an exciting selection of things to do if you are planning a visit to the area:
Food & Wine
1. Dine with a group of friends in an authentic Basque txoko, a place where private gastronomic societies get together, socialize and cook.
2. Drink the locally produced white wine called txakoli, meet the owners of a family owned bodega and tour the Basque coastline.
3. Invite your closest friends to a gourmet picnic in the vineyards of the Rioja wine-growing region.
4. Dine in a privately owned 18th century palace and imagine what life was like over 300 years ago.
5. Sit back & relax as you enjoy wine flights overlooking ancient vineyards in Rioja Alavesa from artisan producers to the modern wineries.
6. Go on a slow-food shopping spree in the historic quarter of Bilbao or San Sebastian, get free samples and learn about each product and the people behind it.
7. Taste the best of both worlds, go wine tasting in France's famous Bordeaux region and cross the border to enjoy the Spanish wines of La Rioja Alavesa.
8. Indulge in the Ultimate Basque Gastronomy Experience stay in charming inns, dine at Michelin star restaurants and enjoy guided tours customized to your preferences.
Cooking Classes
9. Shop in the bustling local markets, Mercado de la Ribera of Bilbao, or La Bretxa of San Sebastian, to discover the region's best delicacies and prepare a typical meal with a local chef.
10. Learn the secret to making the perfect bacalao al pil pil, the regional dish of excellence.
11. Learn how to prepare authentic "pintxos" (not tapas) with an award-winning Basque chef in Bilbao.
12. Take a tour of San Sebastian's best pintxo bars and learn how to make your own pintxos in a gourmet deli.
Eco-Tourism, Sports & Adventure
13. Hit a round of golf, or seven when exploring the golf courses and gastronomy of the Basque Country.
14. Dive into the history of the Napoleonic Wars through the Battle of Vitoria, a decisive struggle told by a historian, while on a bike.
15. Kayak along the tranquil waters of the river Nervión by moonlight.
16. Surf the Basque Country from the famous left wave in Mundaka to the picturesque beaches of Biarritz.
17. Take a Stand Up Paddle down the river from the Guggenheim Museum Bilbao to the historic quarter of the city.
18. Sweat it out on a running tour of Bilbao and surrounding mountains.
19. Take a photo at the summit of Gorbeia on a guided hike and dine in a traditional farmhouse restaurant.
20. Kayak down the river to the fairytale castle of Butron.
21. Learn about the fast paced local sport of jai alai or pelota vasca.
22. Explore the natural parks near Vitoria by bike and kayak.
23. Forage for wild mushrooms with a professional guide and learn what boletus, perritxiko, gilberurdina or champiñones look and taste like, a favorite local pastime.
24. Explore the breathtaking Urdaibai Estuary and biosphere reserve on a boat ride.
25. Walk in the footsteps of pilgrims along the Camino de Santiago, an ancient 800-kilometer pilgrimage across Spain that passes through the Basque region on the way to Santiago.
26. Hike the majestic mountain ranges of the Basque Country from Anboto, Gorbeia or Urkiola with a local guide, and finish of at a typical farmhouse for a hearty lunch.
Families & Groups
27. Take your family on a kickbike tour of Bilbao to visit the historic old town and cruise along to the museum districts.
28. Take a sailboat ride along the coast with your kids to go dolphin spotting.
29. Leave the driving to someone else -- hire a car and driver to visit the coastal cities and inland areas from San Sebastian to the French Basque coast.
30. Participate in local culinary festivals in the Basque Country with a group of friends or family, visit small towns, meet the locals and join in the celebration.
31. Book a private tour guide for your group who speaks German, French, English or Dutch.
32. Take a family cooking class where you can learn how to cook with your kids.
Basque Culture
33. Explore seaside villages and witness an authentic fish auction, tour a local cannery and learn how gourmet anchovies are prepared.
34. Enter an authentic Basque caserio and sample traditionally made wine, honey and cheese.
35. Become captivated by Basque Mythology and the ancient tale of the Basajaun.
36. Learn how to speak one of the oldest languages in Europe, practice your Spanish or both.
37. Listen to smooth Jazz tunes in your own private jam session in the heart of Bilbao while sipping on local wines.
38. Walk in the footsteps of Ernest Hemingway during his journey through the Basque Country, accompanied by a local author.
39. Visit off the beaten track villages hidden in the Pyrenees and dine in enchanted palaces and learn about what life was like hundreds of years ago.
40. Enjoy freshly grilled seafood by the coast and tour the Cristóbal Balenciaga museum to learn about one of the most influential fashion designers in Europe.
41. Dine like a local at a traditional sidreria for excellent T-bone steak and all the cider you can drink.
42. Participate in Bilbao's annual festival Aste Nagusia during August and enjoy cultural events, cooking contests, concerts and more.
43. Take your best swing in the historic fronton of Miruaitz and learn about local players and the history of Basque pelota.
44. Get showered by 30,000 bottles of cava during the opening ceremony of Vitoria's Fiesta de la Virgen Blanca, and learn about the curious Celedon.
History, Art & Architecture
45. Learn about the whaling history of the seafaring Basques and dine in an authentic txoko.
46. Discover the fascinating history of sidra the local apple cider, see a 16th century apple press, and visit one of the popular Basque cider houses called sagardotegi's.
47. Take a tour of the medieval city of Vitoria-Gasteiz, explore the city's gothic cathedral to see the renovation of a historical monument up close and personal during the "open for restoration" tour.
48. Step into the Valley of Añana one of the world's ancient salt flats which dates back to pre-Romanic times.
49. Uncover the lost art of etching and have lunch with local artists from Bilbao.
50. Walk across the Puente Colgante, an UNESCO world heritage bridge built by Alberto Palacio y Elissague, a Basque architect and student of Gustave Eiffel.
About the Basque Country
Located in Northern Spain and the South West corner of France, the Basque Country is a premier travel destination. As well as being one of the world's gastronomic meccas, the region offers an attractive mixture of historical cities, abundant green landscapes, rocky mountain ranges, and over 253 kilometers of rugged coastline offering breathtaking views, traditional fishing villages, picturesque beaches, and coastal vistas.
About Travel Basque Country
Travel Basque Country is an experience-based travel website in Northern Spain. We specialize in connecting people who are passionate about travel, food, culture and tradition with local experiences. Meet the locals and make new friends, from artists, architects, athletes, cooks, guides, fisherman, farmers, artisans and much more. For more information, go to: http://www.travelbasquecountry.com.
***
TAGS: Travel Basque Country, Basque Country, Visit Bilbao, Basque gastronomy, slow food, Bilbao, San Sebastian, Vitoria, Pais Vasco, Vizcaya, Alava, Gipuzkoa, Bizkaia, travel experience, travel, tourism, golf, kayak, surfing, active tourism, cultural tourism, txikito, To Do Basque Country, Tourism Basque Country, Guide Basque Country, gastro tour.