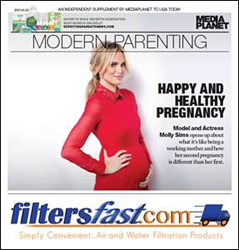 FiltersFast.com is proud to have been selected as an Editor's Pick for their article, "5 Things Every Mom Should Add to Her Baby Registry."
Charlotte, NC (PRWEB) December 19, 2014
This is an exciting time for the Charlotte, NC based Filtersfast.com. Advertising on a national scale is the perfect way to end the company's first decade of business. FiltersFast.com celebrated their 10th Anniversary in May of this year.
Although the print edition of Expecting Parents will only run through Sunday, December 21, the digital version will live forever. FiltersFast.com is proud to have been selected as an Editor's Pick for their article, "5 Things Every Mom Should Add to Her Baby Registry." They used this opportunity to introduce some of their products to expecting parents and provide valuable health related information.
Since 2004, Filtersfast.com remains committed as the authoritative resource for consumers regarding the importance of changing residential and commercial water filters and air filters on a regular basis. Helping consumers understand the importance of regular water and air filtration maintenance is part of the company's mission statement. By saving customers time and money, they simplify a sometimes mundane, but very necessary task. The company strives to add to their customer's overall quality of life by offering first-rate products at the best competitive prices.
For more information regarding their ad and article in USA Today's special Expecting Parents Edition, or for information about their large assortment of refrigerator filters, water filters, air filters, humidifier, pool and spa filters, or featured promotional products, visit http://www.filtersfast.com or call their Customer Experience Department at 1-866-438-3458.