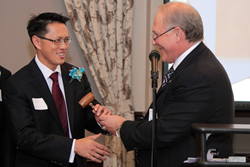 Each era and each year has its own issues. This year, the main effort will be in protecting access for patients by keeping malpractice costs low.
Fontana, CA (PRWEB) June 30, 2014
Loma Linda University Health's (LLUH) Montri Daniel Wongworawat, MD, was inducted as the 122nd president of the San Bernardino County Medical Society (SBCMS) on Wednesday, June 25 at the SBCMS 135th Installation of Officers, Recognition and Awards Dinner at Sierra Lakes Golf Club in Fontana. Wongworawat became the 22nd Loma Linda physician to serve in that capacity, and at 41 he is the youngest elected president of SBCMS in its 135-year history.
"I feel honored to be installed as president of San Bernardino County Medical Society and am humbled by the long line of presidents before me who have led the society since its founding," said Wongworawat.
Currently an orthopedic surgeon specializing in hand and upper extremity injuries at Loma Linda University Medical Center and assistant chair of orthopedics at Loma Linda University School of Medicine (LLUSM), Wongworawat's dedication and innovation in the field of health care does not go unnoticed.
"We are so blessed to have a physician and surgeon of Dr. Wongworawat's caliber here at LLUH," said Gary Botimer, MD, chair, orthopedic surgery at LLU. "He is truly a renaissance man who has a versatile role in the field of health care. He has tremendous organizational and administrative skills in addition to being an artist and an athlete. He excels at all that he does."
Wongworawat stated, "I'm particularly excited that LLUH's faculty practice plan has forged a stronger relationship with SBCMS, and I'm happy to be part of this partnership."
As president, Wongworawat is the chief spokesperson for the Medical Society and it is his responsibility that the business of the Board is carried out. In his official capacity, he will preside at Board meetings, Executive Committee Meetings and general meetings of SBCMS. Additionally, the new president already has his priorities set for the year ahead.
"Each era and each year has its own issues. This year, the main effort will be in protecting access for patients by keeping malpractice costs low," he said.
Wongworawat has a long history of participation and leadership roles in organized medicine dating back to his medical school days at LLUSM where he served as the medical student representative on SBCMS's Board of Directors. He continued his engagement throughout his residency and was recognized as the top recruiter of new resident members by the California Medical Association (CMA).
In 2008, Wongworawat became a board member of SBCMS and was elected to serve as the organization's secretary, treasurer and vice president before assuming the president-elect position.
His other activities include serving as a delegate to the CMA House of Delegates, serving on various SBCMS committees and attending CMA's Legislative Day in Sacramento. He also played a significant leadership role during 2013-14 increasing CMA/SBCMS membership of LLUSM physicians, residents and students. Today, LLUSM has more members than any other academic institution in California.
Joining Wongworawat on the SBCMS board from LLUH are Dr. Marti Baum, President-elect; Dr. Adrian Cotton, Board member and Dr. Tami Thomas, Board member.