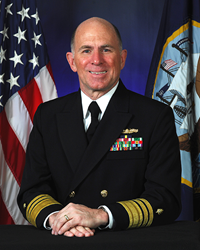 Reading, Pa. (PRWEB) April 24, 2014
Vice Admiral Matthew L. Nathan will receive an Honorary Degree of Humane Letters from Alvernia University before addressing the Class of 2014 at Commencement, May 10, at 2 p.m. Vice Admiral Nathan is Surgeon General of the Navy and Chief of the Navy's Bureau of Medicine and Surgery.
Nathan's education and navel background is extensive.
He has been instrumental in organizing the Fleet Health Domain integration with the Fleet Readiness Enterprise, while providing medical global force management. As commander of the Naval Medical Center in Portsmouth and Navy Medicine Region East, Nathan commanded more than 18,000 personnel and oversaw an operating budget exceeding $1.2 billion.
Nathan also served as commander of the Walter Reed National Military Medical Center and Navy Medicine, National Capital Area where he was the Navy component commander to the largest military medical integration and construction project in Department of Defense history.
The Vice Admiral is board certified and holds Fellow status in the American College of Physicians and the American College of Healthcare Executives. He also holds an appointment as Clinical Professor of Medicine at the Uniformed Services University of the Health Sciences and is a recipient of the American Hospital Association's Excellence in Leadership award for the Federal Sector.
Nathan's personal awards include the Distinguished Service Medal (1); Legion of Merit (5); Meritorious Service Medal (2); Navy and Marine Corps Commendation Medal, and Navy and Marine Corps Achievement Medal (2).
ALVERNIA is a distinctive Franciscan university, grounded in the Catholic and liberal arts traditions, that combines diverse academic opportunities with personal attention and an unmatched commitment to community service. Alvernia empowers students to become "ethical leaders with moral courage." Through real-world learning and the challenging guidance of faculty mentors, they discover their passion for life and turn what they love into lifetimes of career success and personal fulfillment. Alvernia students do well and do good.