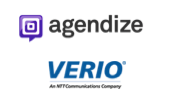 "Verio is excited to partner with Agendize," says Holger Gerlach, Managing Director of Verio Europe.
Miami Beach, FL (PRWEB) June 16, 2014
Agendize, a leading provider of applications to engage and convert online visitors, today announced that Verio, an NTT Communications company, and a leading provider of innovative online business solutions for SMBs, will resell the Agendize suite through its global partner network and to its international customers as a private label offering. Verio selected the Agendize customer engagement and conversion suite for its ease of use, online enablement and revenue enhancement capabilities designed for SMBs.
"Technology is levelling the playing field: our tools help SMBs compete and get more business online. That's why Agendize is pleased to partner with Verio - to expand our global reach and serve SMBs in new regions," says Alf Poor, President & COO of Agendize.
The Agendize suite is comprised of several engagement and call-to-action solutions that are well suited to help SMBs engage their audience and turn traffic into revenue generating business. With the Appointment Scheduling Software, businesses can easily optimize their booking process, on their Website, Facebook page, and now on their mobile website, saving them significant time typically spent on managing appointment inquiries and extending round-the-clock convenience to their customers. The Click-to-Call widget is the easiest, ready to market solution for businesses looking to generate more inbound call leads. Live Chat makes it incredibly simple to integrate a compelling customer service offering to any website. Still a popular lead generation tool, Form Builder provides a simple way for a business to be reachable. Save & Share is a perfect opportunity for businesses willing to have their company information promoted by customers; including Social Media, by email, by SMS, by Instant Messaging, and also with a GPS synchronization option. For businesses looking to analyze the effectiveness of marketing campaigns, they can make use of the Call Tracking service.
Agendize also integrates an intuitive user interface that allows Verio's network of freelancers, SMBs, enterprises, web agencies, advertising and marketing professionals to gather customer data in an integrated Customer Relationship Management (CRM) platform for better campaign and market analysis. The Agendize solutions are complete and simple. They are easy to deploy on a website or Facebook page. Also, a user-friendly and mobile-responsive interface makes the tools easy to operate.
"Verio is excited to partner with Agendize," says Holger Gerlach, Managing Director of Verio Europe. "These offerings, available in most global regions through Verio, will provide our worldwide partners with a white labeled suite of integrated products they can sell to meet the online needs of SMBs."
For more information on our resellers network, please visit: http://www.agendize.com/partners/resellers.
For more information on the Appointment Scheduling Software, please visit: http://www.agendize.com/features/appointment-scheduling-software.
Press Contact:
Raphaël ISCAR
+1 514 550 4090
riscar(at)agendize(dot)com
About Agendize
Agendize is the only one-stop-shop of engagement and conversion tools on the market. By generating meaningful interaction, engagement tools turn online visitors into customers. The Agendize platform includes: Online Scheduling, Click to Call, Live Chat, Form Builder, Save & Share, and Call Tracking - with integrated CRM and Analytics functionalities. Over 100,000 businesses worldwide use Agendize to generate more leads and improve customer service. Agendize tools are distributed as a white-label solution by some of the largest digital players.
About Verio
Verio is the leading provider in delivering innovative online business solutions to SMBs worldwide. Verio's solutions provide Cloud, web hosting, managed services, application hosting and SaaS that enables SMBs to drive online success. Verio, a subsidiary of NTT Communications, supports its operations with their highly reliable and scalable Global Tier-1 IP Network. Through this network, Verio provides partners and customers with access to business solutions in more than 150 datacenters worldwide.