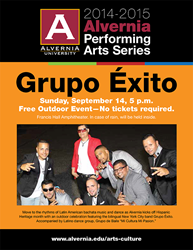 (PRWEB) September 09, 2014
Alvernia University is launching its 2014-15 Performing Arts Series with an open-air Francis Hall Amphitheater performance by Grupo Éxito, this Sunday (Sept. 14), at 5 p.m.
In celebration of Hispanic Heritage month, this Latin American rhythms concert features bachata music and dance, and is free and open to the public.
About the 2014-15 Performing Arts Series at Alvernia:
Several ticketed performances will be held in Alvernia's Francis Hall Theater this year:
Zion & Bryce Canyon Soundscapes — Video instrumental concert
Tuesday, Oct. 7, 2014, 7:30 p.m.
Gershwin on Broadway with Leon Bates — Pianist/Vocalists
Friday, Feb. 27, 2014, 7:30 p.m.
Berks Jazz Fest presents Cyrille Aimée — Jazz vocalist
Wednesday, March 18, 2014, 7:30 p.m.
For ticket information visit http://www.alvernia.edu/arts-culture or call 610-796-8322.