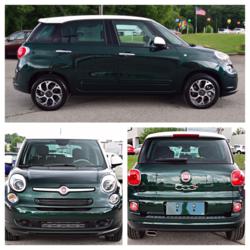 The 500L is the latest edition to the FIAT family of cars, instituting an almost new vehicle class with a larger frame, but compact style.
Huntsville, AL (PRWEB) June 25, 2013
FIAT of Huntsville, Alabama is excited to announce that the all-new 2014 FIAT 500L 4 Door has arrived! After much anticipation, the new FIAT will make quite the addition to the growing family in Huntsville, but what's most exciting is the beauty the new 4-door compact vehicle brings to FIAT and its class of car.
Born over fifty years ago on July 4, 1957, it was more than just a car. It made history. It gave people the ability to move freely and with confidence. A liberating form of self-expression, the FIAT 500 was built to satisfy people's insatiable love for each day. Now, the release of the new 500L dawns a new era for FIAT.
The new FIAT 500L is the Italian's way of proving that Mini Cooper better watch out as both enter into this new class of 4-door compacts. The 2014 FIAT 500L steps away from the usual compact design that FIAT has become known for, and instead created a pocket-sized SUV. It is spacious, yet small. Sleek, yet utilitarian. New, yet classic. The FIAT 500L comes in four trim levels, including the 500L Pop, the 500L Easy, the 500L Trekking, and the 500L Lounge. The L stands for Large, pertaining to the new larger frame with 4-door accessibility.
For power, the FIAT 500L has a turbocharged 1.4-liter four-cylinder engine generating 160 horsepower and 184 pound-feet of torque. A six-speed traditional manual transmission or an available six-speed automated manual routes power to the front wheels. The six-speed automatic comes standard on the Lounge, while the Trekking model features 17-inch wheels and revised front and rear fascias that lend the FIAT 500L a quasi-adventure look.
FIAT of Huntsville, Alabama invites people to come by their studio and see the All-New FIAT 500L, located at 6533 University Drive NW Huntsville, Alabama 35806. Follow the dealership on Facebook or on Twitter, @FIATofHSV.