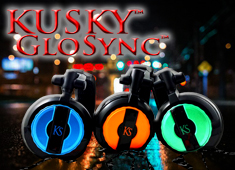 Move over beats! Kusky Glosync is coming to the market!
Los Angeles, California (PRWEB) July 31, 2014
There are a lot of headphones on the market but Kusky has created a pair with cables that light up, glow and blink to the beat of your tunes!
Kusky GloSync headphones deliver crisp, pure audio with high-quality passive noise isolation. From its integrated control box, music lovers can skip tracks, answer calls and support voice commands on smartphones. GloSync headphones are fully adjustable, super comfortable and collapse for easy storage. Whether DJs are out spinning at the club or joggers are going for a midnight run, they''ll be seen from anywhere!
There is a short video on the Kickstarter Campaign.
Check out GloSync on Kickstarter.
Visit the website to learn more about these awesome headphones!