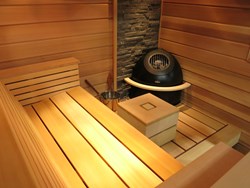 Keith Raisanen, president of Finnleo, said, 'Today's home sauna is as unique as the homeowner with options ranging from prefabricated, plug-in infrared saunas to highly customized panel-built or built-in (custom cut) models.'
Cokato, MN (PRWEB) February 22, 2014
As has been reported in numerous weather reports and news stories, the winter of 2013-2014 has been one of the most brutal on record. Record amounts of snow and number of days below 0°F have caused a multitude of school cancellations and delays, and brick and mortar stores have suffered in sales because people have been too cold to venture out of their homes. For those looking to escape the cold, many have rekindled an interest in saunas.
The demand for an at-home-escape is so great that it has even affected how homes are marketed. A real estate writer, Sarah Cox, recognized this demand and wrote this piece for a high-end property, "Winter 2014 Demands That You Buy This Condo With A Sauna." While popular amenities, saunas and steam rooms are seldom the headline of a high-end property for sale. Another real estate writer in Philadephia, Molly Webb, wrote a piece in November 2013 in anticipation of a brutal winter, "Keep Warm This Winter With Your Own Sauna or Wood Stove," again highlighting the sauna as a key reason to buy a home.
When asked about installing a sauna in a home, Keith Raisanen, president of Finnleo and member of the North American Sauna Society, said, "Today's home sauna is as unique as the homeowner with options ranging from prefabricated, plug-in infrared saunas to highly customized panel-built or built-in (custom-cut) models. The sauna has truly transformed from a health-club feature to a must have home amenity. In winter, especially this winter, the sauna offers an immediate escape from the cold. As we like to say, sauna not only feels good, but it is good for you." In a nod to the European tradition of sauna, some homeowners are starting to host sauna parties where they invite friends to enjoy an evening of sauna, healthy food and beverages, and great conversation. These sauna enthusiasts have learned the many benefits of sauna, including health, wellness, and social interaction.
To learn more about installing a home sauna as an escape from the rest of this winter and to be prepared for the next winter, visit http://www.finnleo.com or call 1-800-FINNLEO (346-6536).