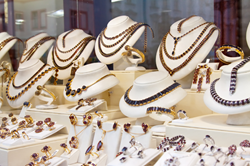 Our commitment to offering only the best products at the best prices means grooms can shop with confidence for their brides.
New York, NY (PRWEB) June 05, 2014
As many couples prepare to say their "I do's" during June's traditional wedding season, ZenithMart is poised to help grooms wow their brides with spectacular wedding day gifts that deliver beauty, quality and savings. Since its launching in 2012, ZenithMart has become one of America's top rated online jewelry stores for those reasons and more.
As one of the few online vintage jewelry stores that also specializes in gold and diamonds jewelries, ZenithMart's collection provides grooms with access to a tremendous selection of items to suit the taste of even the most finicky of brides. Its convenient portal, to-the-door-shipping and reasonable pricing make finding just the right diamond necklaces online or other gifts to give simple and affordable.
"There are a lot of fine jewelry stores online for women, but none are quite like ZenithMart," explained Tochukwu Mbiamnozie, ZenithMart's CEO, founder and president. "Our commitment to offering only the best products at the best prices means grooms can shop with confidence for their brides. And, since we understand bride gifts quite often become family heirlooms down the road, we've gone to great lengths to ensure only the highest quality in our collection."
Just browse ZenithMart's extensive collection and it becomes clear why it has become one of America's favorite discount jewelry stores online so quickly. Shoppers will find:

Traditional jewelry – Like many diamond jewelry online stores, ZenithMart offers a tremendous selection of rings, earrings, necklaces and bracelets. Unlike other women's diamond jewelry stores, however, ZenithMart's prices are exceptional for the quality and selection offered. Plus, grooms can rest assured their online shopping experience will shine thanks to ZenithMart's commitment to service and customer security.
Watches – Fine time pieces are a traditional gift from a groom to a bride meant to symbolize the preciousness of the moments the two share together. Compare online jewelry stores and it will be hard to top the quality and selection ZenithMart provides.
"With so much going on before the wedding day, it's easy for grooms to forget giving a bride gift beyond a ring is a tradition that's worth keeping," Mbiamnozie said.
"ZenithMart is here to help grooms find just the right gift to dazzle brides after they've said their 'I do's.'"
To find out more about ZenithMart, visit the company online at http://www.zenithmart.us. When it's time to buy jewelry online, the ZenithMart difference is one to explore.
About ZenithMart:
Since its founding in 2012, ZenithMart has been on a mission to change the way America shops. Specializing in jewelry, computers, general merchandise and household goods, the store stands out from the competition because of its high quality selection, secured shopping experience, price savings and outstanding service. These reasons have made it one of the fastest-growing diamond jewelry stores online.